التنقل اليومي ورقمنة المدن : معلومات متعددة السرعات (ليون، الرباط)
Day-to-day mobility and digitalizing urban environments : a multi-speed traveller information (Lyon, Rabat)
Mobilités quotidiennes et numérisation des villes : une information à plusieurs vitesses (Lyon, Rabat)
المعلومات المتعلقة بالتنقل اليومي تمثّل بُعدًا هيكليًا متزايدًا لأنماط الحياة اليومية، وذلك نتيجة لتنويع وسائط النقل العام في التجمعات الحضرية وتفرّد السلوكيات البشرية. وتعتمد هذه الديناميات، منذ خمسة عشر عامًا، على تطوير مصادر المعلومات الرقمية التي توسّع مجال إمكانيات المعلومات الفردية والمتعددة الوسائط وفي الوقت الفعلي. وغالبًا ما تعتبر السلطات العامة المعلومات الرقمية أساسا للتحول النمطي في ظروف تميزت بمعدلات استخدام الأغلبية للسيارات، ومع ذلك، تؤدي هذه المعلومات إلى اختلافات في الاعتمادات الاجتماعية الديموغرافية والاجتماعية الاقتصادية التي قد تحدّ من تأثيرها. كما أنّ الافتقار إلى المعلومات المتعلقة بالتنقل يمكن أن يشكل صعوبة إضافية في الاستفادة من الموارد الحضرية بالنسبة للسكان المتواضعي الحال الذين يعيشون على هامش التجمعات الحضرية. وفي هذا البحث ندرس بشكل شامل طرق التعرف على التنقل اليومي في سياق رقمنة مصادر المعلومات. ولهذه الغاية نتناول بالبحث مدينتي ليون والرباط كنماذج، باعتبارها تجمّعات حضرية تتميز، من خلال برامجها الابتكارية في مجالي النقل والمعلومات المتعلقة بالتنقل، بمستوى عالٍ من الامتداد الحضري وبمعدلات عالية من امتلاك الهواتف المحمولة واستخدام الإنترنت. ولكن المدينتين مختلفتين الواحدة عن الأخرى من حيث أنظمة النقل العام واستخدام السيارات ومستويات المعيشة فيها. ولهذه الغاية نعتمد على عمل ميداني يتكون من دراسة استبيانات ومقابلات قمنا في مناطق مختلفة ومتباينة في هذين التجمّعين الحضريّين. وانطلاقا من هذه المادة، نقوم بتحليل تأثير اختلافات المستوى الاجتماعي والمكاني على ممارسات التنقل والاستخدامات الرقمية المرتبطة بالوصول إلى معلومات التنقل واستخدامها. ثمّ نقوم بعد ذلك بدراسة ممارسات المعلومات المتعلقة بالتنقل، مع توضيح المكانة الخاصة التي تحتلّها المصادر الرقمية ضمن هذه الممارسات. وفي الختام، نقوم بإدخال ممارسات المعلومات ضمن مجموعة الترتيبات التي يتخذها سكان المدن بهدف جعل رحلاتهم اليومية أكثر موثوقية وضمانا. ونبيّن أن ممارسات المعلومات، من خلال ممارسات التنقل والممارسات الرقمية، يحكمها التفاوت الاجتماعي - المكاني التي تؤثر على اعتماد وتبنّي مصادر المعلومات واستخدامها. ونسلط الضوء على البُعد ذي الصلة بعدم المساواة، مع عوامل تفسيرية مختلفة خاصة بكلّ من مدن ليون والرباط. حيث أنّ استخدامات المعلومات الرقمية تتوسع، وتكمّل ولا تُلغي الممارسات السابقة، مع تأثّرها بشكل قوي بسياق التنقّل. ومن خلال وضع المعلومات الرقمية في إطار أوسع، نبيّن أنها مرتبطة هي نفسها بالتفاوت بين الموارد التي يمكن لسكان المدن تكريسها لجعل رحلاتهم أكثر موثوقية. وفي هذا السياق، تَظهر المعلومات الرقمية كوسيلة لتحسين ظروف التنقل لجزء من سكان المدينة، ولكن يجب النظر فيها كمجال مُكمّل لوسائل أخرى للمعلومات مع الأخذ بالاعتبار التفاوت الاجتماعي - المكاني الذي يؤثر على استخدامها.
Traveller information growingly affects everyday life and mobility patterns, as a result of diversifying public transport modes and more individual behaviours. For about fifteen years, these dynamics have gone along with the development of digital traveller information devices and applications, which increase the opportunities for providing multimodal and real-time information. Information provision is often considered as a way of encouraging modal shift in environments strongly supported by car use, but its effect is likely to be mitigated by sociodemographic and socioeconomic variations in information appropriation and use. We conduct a global analysis of the ways of getting information on daily mobility in a context of digitalizing traveller information, with Lyon and Rabat urban areas as case studies. Our analysis is based on a quantitative and qualitative data collected in contrasting areas of each city. We show that traveller information practices are shaped by socio-spatial inequalities in both cities, in the aftermath of mobility and digital practices. However, we pinpoint that inequalities can be explained by different factors in Lyon and Rabat, which sheds light on the urban context as a deciding factor of inequality. Digital information use is rising in both contexts, but far from replacing former traveller information types, we observe a strong complementarity between them, with a high dependency on the trips specific context. Taking into account the broader range of actions set up by citizens to reduce the uncertainties that affect their daily mobility, we highlight that these actions are also determined by inequalities between citizens, in terms of economic resources and time allocated to increase the reliability of their trips. In this respect, digital traveller information can be considered as a way of improving mobility conditions for some citizens, but not all of them, due to the socio-spatial inequalities at the outset that affect its appropriation and use.
L'information sur la mobilité constitue une dimension de plus en plus en plus structurante des modes de vie quotidiens, sous l'effet d'une diversification des modes de transports collectifs dans les agglomérations et d'une individualisation des comportements. Ces dynamiques s'appuient depuis une quinzaine d'années sur le développement de sources d'information numérique qui accroissent les possibilités d'information individuelle, multimodale et en temps réel. Souvent envisagée par les pouvoirs publics comme un levier de report modal dans des contextes marqués par des taux d'accès majoritaires à l'automobile, l'information sur la mobilité pourrait aussi constituer un obstacle supplémentaire d'accès aux ressources urbaines. Nous examinons globalement les manières de s'informer sur la mobilité quotidienne dans un contexte de numérisation des sources d'information, à partir des cas de Lyon et de Rabat et d'une enquête par questionnaire et par entretiens conduite dans des territoires contrastés des deux agglomérations. Nous montrons que les pratiques d'information, à travers les pratiques de mobilité et les pratiques numériques, sont structurées par des inégalités socio-spatiales qui affectent l'appropriation et l'utilisation des sources d'information. Nous mettons en évidence la dimension contextuelle des inégalités, avec des facteurs explicatifs différents à Lyon et à Rabat. Les usages de l'information numérique progressent, mais en complétant plutôt qu'en éliminant les pratiques antérieures, avec un fort impact du contexte du déplacement. En replaçant l'information numérique au sein d'un cadre d'action plus large, nous montrons que celui-ci est lui-même déterminé par des inégalités entre les ressources que peuvent consacrer les citadins à fiabiliser leurs déplacements. Dans ce contexte, l'information numérique apparaît comme une piste d'amélioration des conditions de déplacement pour une partie des citadins, mais qui doit être envisagée en complément d'autres moyens d'information et en tenant compte des inégalités socio-spatiales qui affectent son utilisation.
Fichier principal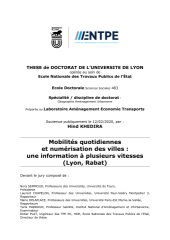 Khedira_PhD_thesis_2020.pdf (13.55 Mo)
Télécharger le fichier
Origin : Version validated by the jury (STAR)