The protectiing law of the foreign investments in countries of development : example West africa
La protection juridique des investissements directs étrangers dans les pays en développement : l'exemple de l'Afrique de l'ouest.
"The protection of foreign direct investment in developing countries: the example of West Africa"FDI is at the heart of globalization and north-south economic relations. The question of their protection and legal regulation is acute. Faced with the scarcity of other sources of development finance (development aid) and the difficulties of access to technology, FDI is an important resource for filling the insufficiency of internal resources. This is why African countries in general, and those in West Africa in particular, are competing vigorously to receive foreign capital by providing them with an attractive, secure and non-discriminatory legal and institutional framework. Indeed, in the West African subregion, the law is used by States, but also by subregional integration organizations such as ECOWAS as an important instrument for demonstrating economic attractiveness. Thus, the analysis and measurement of the legal and institutional framework for FDI in West Africa will be discussed. In other words, has the security dimension of the investment (reception, processing, guarantee and settlement of disputes etc.) allowed for greater promotion and reception of investments from these countries?The interest of the subject is multiple. Indeed, at the legal and academic level, it allows to know, analyze and situate the entire legal regime of foreign investment at the internal level (investment code, mining code, oil code). At the external level, there is a multitude of conventions - such as bilateral BIT investment treaties -, accession to the relevant international investment conventions, and of course the increasingly visible and visible role of Community law in through the "communitisation of the law of foreign direct investment". The study of this subject shows the deep gap that exists between theory and practice in the FDI legislation of the countries of this part of Africa. If, upstream, the texts are more or less similar to those of the advanced countries, downstream, the execution of the texts by the public administrations makes mediocre the environment and the practice of the businesses. This theme on the legal protection of investments raises other questions and issues such as: the intervention of more and more actors and the instruments negotiated within them (World Bank, ADB, WTO, OECD, ECOWAS and UEMOA). etc.). There are also new issues related to environmental issues, corporate social responsibility and heritage issues. Finally, the problems posed by new types of investment, particularly PPP public-private partnerships, will be studied. The current nature of the research is striking, as there are several issues related to investment protection in countries such as West Africa. It is about the transfer of technology in a new context, the industrialization by the natural resources, the contribution on the development of the host country and the creation of jobs especially in an international context where Africa became again attractive.
Les IDE sont au cœur de la mondialisation et des rapports Economiques Nord-Sud. La question de leur protection et de leur régulation juridique se pose avec acuité. Devant la rareté des autres sources de financement du développement et d'accès à la technologie, l'IDE constitue une source importante pour combler l'insuffisances des ressources internes. raison pour laquelle, les pays d'Afrique de l'ouest se livrent à une concurrence farouche pour les accueillir. Dans la sous région ouest africaine le droit et la réglementation sont utilisés comme des instruments importants pour mesurer l'attractivité et la sécurité juridiques des pays. Le sujet s'interroge, analyse la dimension sécuritaire(traitement et garantie) a t'elle permise une plus grande promotion et d'accueil des IDE?. Notre sujet tentera d'analyser et situer l'effectivité du régime juridique des investissements étrangers au plan interne( codes des investissements, codes miniers et codes pétroliers). Mais aussi au plan externe( Traité bilatéraux d'investissement TBI,conventions sectoriels de protection arbitrage et garantie). Le dernier axe de ce travail de recherche, est le phénomène de la Communautarisation de la protection avec les tentatives d'harmonisation et d'uniformisation des réglementations nationales en Afrique de l'Ouest. Le dernier aspect, c'est l'institutionnalisation à travers les Organisations Economique Internationales (Banque Mondiale et Banque Africaine de développement BAD) du système juridique de protection en Afrique de l'Ouest.
Fichier principal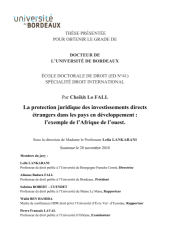 FALL_CHEIKH_LO_2018.pdf (16.08 Mo)
Télécharger le fichier
Origin : Version validated by the jury (STAR)