Study of the variability of active galactic nuclei at very high energy with H.E.S.S.
Etude de la variabilité des noyaux actifs de galaxies au très hautes énergies avec H.E.S.S.
Along with the improvement of our knowledge of the Universe, increasingly detailed, varied and precise data sets appeared necessary to solve the remaining unknowns. Experiments thus improved their sensitivities and resolutions but also combined their observations into large multi-messenger and multi-wavelength data sets. If a source is variable the available temporal information can also be used to constrain the possible processes taking place in this source. Blazars are active galactic nuclei displaying important variability with electromagnetic emissions covering a large fraction of the observed electromagnetic spectrum, emitted in a relativistic jet of particles. The H.E.S.S. experiment is an array of Cherenkov telescopes located in Namibia performing astronomical observations using very high energy photons. In this manuscript, reviews of blazar physics, very high energy astronomy and the H.E.S.S. experiment are followed by various worked performed to analyse and use variable data from blazars. Tools were developed in the H.E.S.S. analysis software aiming at improving the analysis of flaring events. Sets of data obtained during flaring events of two blazars (3C 279 and PKS 2022-077) were analysed and put into context with contemporaneous multi-wavelength observations. A new task aiming at characterising blazar flare in a semi-systematic way is also introduced. The manuscript then ends with the results of the exploration of the parameter space of a lepto-hadronic emission model applied to a flare of TXS 0506+056 coincident with the detection of an astrophysical neutrino with IceCube.
Suite à chaque amélioration de notre connaissance de l'Univers, la résolution des zones d'ombre restantes dans nos théories nécessite l'utilisation de données de plus en plus détaillées, précises et variées. Les expériences ont donc amélioré leur sensibilité et résolution, mais aussi combiné leurs données pour former des compilations de données multi-longueurs d'onde et multi-messagers. Si une source est variable, les informations temporelles peuvent aussi ajouter des contraintes aux processus ayant lieu dans celle-ci.Les blazars sont des noyaux actifs de galaxies dont les émissions électromagnétiques, qui couvrent une large fraction du spectre électromagnétique observé, sont fortement variables et émises par un jet relativiste. L'expérience H.E.S.S. est un réseau de télescopes Cherenkov situé en Namibie réalisant des observation astronomiques de photons de très haute énergies. Ce manuscrit commence par une revue de la physique des blazars, de l'astronomie à très haute énergies et de l'expérience H.E.S.S., qui est suivie par les descriptions de divers travaux réalisés pour analyser et utiliser des données de variabilité de blazars. Des jeux de données obtenus durant des périodes d'activités intenses de deux blazars (3C 279 et PKS 2022-077) ont été analysés et mis en relation avec les données multi-longueurs d'onde contemporaines. Une nouvelle tâche de travail visant à caractériser de manière semi-systématique les épisodes d'activité de blazars est aussi introduite. Enfin, le manuscrit se termine par les résultats d'une exploration de l'espace des paramètres d'un modèle d'émission lepto-hadronique appliqué à une observation de TXS 0506+056 avec une détection coïncidente d'une activité électromagnétique et d'un neutrino.
Fichier principal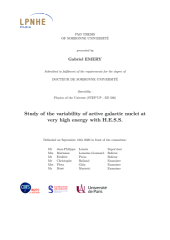 EMERY_Gabriel_2020.pdf (11.1 Mo)
Télécharger le fichier
Origin : Version validated by the jury (STAR)