Sustainable development in african regional investment treaties : the case of ECOWAS and SADC.
Le développement durable dans les traités régionaux africains d'investissement : cas de la CEDEAO et de la SADC.
The understanding of the tandem of sustainable development and investment treaty has long been seen in terms of contradiction. Indeed, although there is a consensus on the importance of investments as a vehicle for Sustainable Development, the only international instruments specifically dedicated to them [investment treaties] generally pay little or no attention to this objective; they are designed with the sole aim of ensuring high protection for investors and their investments. Over the past decade, however, new models of investment treaties have emerged in African regional organizations with the sole aim of promoting investments that support sustainable development. However, this paradigm shift, which now advocates the compatibility of the legal regime of transnational investment with social and environmental requirements, raises some questions. Among these is the question of how the commitment to sustainable development is concretely reflected in these regional treaties. The issue is crucial, especially when one considers the difficulties surrounding the analysis of Sustainable Development, a concept and objective that is both multidimensional and evolving. In that regard, the study of ECOWAS and SADC instruments reflected the consideration of Sustainable Development at two levels. First, adaptation, through the amendment of the traditional clauses of investment treaties (Part I). Secondly, innovation, through the introduction of provisions which had not previously existed in Treaty practice (Part II).
L'appréhension du tandem développement durable – traité d'investissement a longtemps été perçue sous l'angle de la contradiction. En effet, bien qu'il existe un consensus sur l'importance des investissements en tant que vecteur du développement durable, les seuls instruments internationaux qui leur sont spécifiquement dédiés [les traités d'investissement] font généralement peu, ou pas, cas de cet objectif ; ceux-ci étant conçus dans le seul but d'assurer une protection élevée des investisseurs et leurs investissements. Toutefois, depuis une décennie, on voit émerger au sein des organisations régionales africaines de nouveaux modèles de traités d'investissement dont l'unique but est de promouvoir les investissements qui soutiennent le développement durable. Ce changement de paradigme, qui prône désormais la compatibilité du régime juridique de l'investissement transnational avec les exigences sociales et environnementales, n'est cependant pas sans soulever des interrogations. Parmi celles-ci se pose la question de savoir comment l'engagement en faveur du développement durable est concrètement traduit dans ces traités régionaux. L'interrogation est capitale, surtout lorsqu'on sait les difficultés qui entourent l'analyse du développement durable, concept et objectif à la fois multidimensionnel et évolutif. À cet égard, l'étude des instruments de la CEDEAO et de la SADC témoigne de la prise en compte du développement durable à un double niveau. D'abord, l'adaptation, à travers l'aménagement des clauses traditionnelles des traités d'investissement (PARTIE I). Ensuite, l'innovation, par l'introduction de dispositions jusque-là inexistantes dans la pratique conventionnelle (PARTIE II).
Fichier principal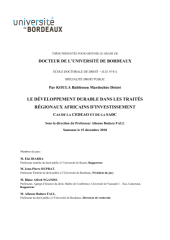 KOULA_BABLESSON_MARDOCHEE_DESIRE_2018.pdf (2.44 Mo)
Télécharger le fichier
Origin : Version validated by the jury (STAR)