Cuban women et the new societal challenges of the 21st century
Las cubanas y los nuevos desafíos societales del siglo XXI
Les cubaines et les nouveaux défis sociétaux du XXIe siécle
From the first years of the Cuban Revolution, the respect and the defense of the women's rights constituted a priority for the Cuban authorities. The Federation of Cuban Women (FMC), founded in 1960, will play an essential role in the feminine emancipation, the insertion of the Cuban women in the working world and their active participation in the construction of the new socialist society. Nevertheless, serious challenges remain that render the progress made fragile and liable to setbacks. The analysis of the situation of the Cuban Women of the 21st century, her role in the creation of a "society more opened for the world" and in the conception of "new ways of thinking the daily cuban life", it will allow us to understand the new societal challenges that this arduous mission imposes them.
Desde los primeros años de la Revolución Cubana, el respeto y la defensa de los derechos de la mujer constituyeron una prioridad para las autoridades cubanas. La Federación de Mujeres Cubanas (FMC), fundada en 1960, desempeñará un rol esencial a favor de la emancipación femenina, de la inserción de las cubanas en el mundo laboral y de su participación activa en la construcción de la nueva sociedad socialista. Sin embargo, después de una larga trayectoria de lucha en la que han conocido avances y retrocesos, las cubanas de hoy se enfrentan a una realidad plagada de preceptos, normas y comportamientos dictados por una cultura patriarcal que perdura y se manifiesta cada día más en la cotidianidad cubana. La misma, junto a la crisis económica y las transformaciones actuales por las que atraviesa el contexto cubano, hacen que la construcción de "la nueva mujer" continúe siendo una tarea pendiente para la Revolución. El análisis de la situación de las cubanas del siglo XXI, de su rol en la creación de una "sociedad más abierta al mundo" y en la formación de "nuevas formas de pensar la vida cotidiana cubana", nos permitirá comprender los nuevos desafíos societales que esta ardua tarea les impone.
Dans le domaine des conquêtes obtenues par les femmes, la Révolution Cubaine depuis 1960, réalise des progrès remarquables. La Fédération des Femmes Cubaines (FMC), fondée en 1960, jouera un rôle essentiel en faveur de l'émancipation féminine, de l'insertion des femmes cubaines dans le monde du travail et de leur participation active à la construction de la nouvelle société socialiste. Cependant, ces progrès obtenus dans le cadre d'un processus idéologique et d'une volonté gouvernementale d'une participation forte des Cubaines dans la construction de la nouvelle société socialiste, cohabitent et se heurtent encore à des croyances propres à une culture machiste et patriarcale, laquelle aujourd'hui, à côté de la crise économique et des changements actuels que connaît le contexte cubain, montrent que la construction de la «nouvelle femme» n'est pas tout à fait aboutie et risque même de menacer les victoires obtenues par les Cubaines au sein de la société et en matière d'égalité des droits. L'analyse de la situation des Cubaines au XXIe siècle, leur rôle dans la construction « d'une société plus ouverte sur le monde » et la création de « nouvelles façons de penser le quotidien cubain » dans la lutte en faveur de l'équité du genre, nous permettra d'étudier les nouveaux défis sociétaux auxquels elles se sont confrontées et les solutions envisagées pour les résoudre.
Fichier principal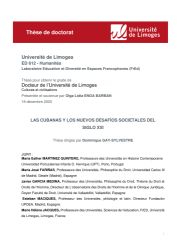 2020LIMO0068.pdf (4.15 Mo)
Télécharger le fichier
Origin : Version validated by the jury (STAR)