Migratory Ordeal and Revolted Clinical Practices. The Subjective Experience of Exile and the Work of Culture.
Ordalies migratoires et cliniques de la révolte. Travail de l'exil et Kulturarbeit.
L'ordalia della migrazione e le pratiche cliniche della rivolta. Tra lavoro psichico dell'esilio e Kulturarbeit.
Asylum seekers in Europe undergo a socio-political neglect, being therefore excluded from the pólis' symbolic order. In this sense, the migration journey can be understood as a "migratory ordeal". At the crossroads between psycho-analysis, philosophy and sociology, this work proposes a clinical development of the subjective processes underneath the movement of migration, and a reflection about the implications of welcoming or not welcoming politics on civilization. A fundamental strain between hospitality and hostility shapes institutions that should give asylum to those who seek for it: some "processes without subjectivity" (Kaës, 2012b) penetrate such institutions. In order to bring about a work of "psychic exile" (Cherki, 2008), migrant subjects look for "interstitial spaces" in the pólis' deserted zones. This is the place where this research unfolds, with two militant collectives which organize some forms of welcoming for exiled and homeless people, by means of the occupation of disused buildings. The process of this study involves implementing some psychological duties in those two squats. Through a presentation of such practices, this thesis aims at sketching a theory about the "clinics of revolt". The sense of those praxis is in the try of shoring a subjective momentum of "allo-generation", id est, a subject's attempt of "giving birth" to himself by means of a (good enough) meeting with others, through a struggle to preserve an inhabitable "elsewhere", in spite of a deathly "here".
Les sujets qui viennent demander l'asile en Europe semblent frappés d'une forme d'abandon politico-social, les excluant de l'ordre symbolique de la pólis. Dans ce sens, le parcours migratoire peut être pensé en termes d'« ordalie migratoire ». Se situant au carrefour entre pensée psychanalytique, réflexion philosophique et approche sociologique, ce travail propose une élaboration clinique des processus subjectifs qui sous-tendent le geste migratoire, et des implications civilisationnelles de l'accueil et du non-accueil des figures de l'Autre. Une tension fondamentale entre hospitalité et hostilité semble modeler les institutions qui seraient censées répondre aux demandes d'asile, mais qui se laissent infiltrer par des « processus sans sujet » (Kaës, 2012b). Afin de s'engager dans un travail d'« exil psychique » (Cherki, 2008), les sujets en migration se mettent en quête d'« espaces interstitiels », au sein des zones désertées de la pólis. C'est ici que se déroule cette enquête : auprès de deux collectifs militants, organisant des formes d'accueil des sujets exilés SDF, à travers l'occupation de bâtiments désaffectés. Des permanences psychologiques, animées par des cliniciens travaillant en groupe, sont mises en place auprès de ces deux squats. La présentation de ces pratiques permet d'esquisser une théorie des « cliniques de la révolte ». De telles praxis voudraient étayer un élan subjectif d'« allo-engendrement », à savoir, une tentative du sujet de « se remettre au monde », faisant exister, face à un « ici » mortifère, et au travers d'une rencontre (suffisamment bonne) avec d'autres, un « ailleurs » habitable.
Fichier principal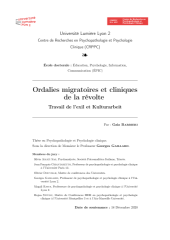 Barbieri_Thèse_Ordalies Migratoires et Cliniques de la Révolte_version numérique.pdf (15.56 Mo)
Télécharger le fichier
Origin : Files produced by the author(s)