The evaluation of non-pharmacological intervention in chronic conditions. Intervention studies based on Single Case Experimental Designs.
L'évaluation des prises en charge non-médicamenteuses dans le cadre d'affections chroniques. Etudes interventionnelles basées sur des Protocoles Expérimentaux à Cas Unique.
Today, Non-Pharmacological Interventions (NPIs), and other procedures that may be associated with them (Traditional Medicine, Complementary and Alternative Medicine), are of a preponderance that should not be underestimated in the perspective of integrative health. A robust scientific evaluation is necessary to sort out the harmful or inefficient practices from those that show real benefits. In this field, randomized controlled trials (RCTs) reign supreme, but their intrinsic limitations are debatable. Through a systematic review of the literature focusing on manipulative and body-based practices as supportive care in cancer, we confirmed the difficulty of RCTs to infer a definitive decision. We then presented a different and little-taught intervention method, the single-case experimental design (SCED) and illustrated them through four studies in various health topics for the evaluation of different NPIs (Parkinson's Disease and Serious Game, Musical Intervention in Palliative Care, Hypnosis and Renal Disease, and Shiatsu and Painful Menstruations). These studies reported interesting results and provided an opportunity to discuss the strengths and weaknesses of this method. We then argued in favor of its use given its legitimate experimental principles and its adequacy with evidence-based practice. Finally, the low quality of the studies we conducted gave us an opportunity to propose a list of recommendations and pitfalls to consider when using SCED.
Les Interventions Non-Médicamenteuses (INM), et autres procédures qui peuvent leur être associées (Médecine Traditionnelle, Médecines Complémentaires et Alternatives), sont aujourd'hui d'une prépondérance à ne pas sous-estimer dans l'optique d'une santé intégrative. Une évaluation scientifique robuste est nécessaire afin de trier les pratiques néfastes ou inefficaces, de celles attestant de réels bénéfices. Dans ce domaine, les essais randomisés contrôlés (ERC) font loi, à un titre discutable du fait de leurs limites intrinsèques. Par le biais d'une revue systématique de littérature centrée sur les pratiques de manipulation corporelles comme soins de support proposés en oncologie, nous confirmons la difficulté qu'ont les ERCs de tirer des conclusions fermes et bien appuyées. Nous présentons alors une méthode interventionnelle différente et peu enseignée, les protocoles expérimentaux à cas unique, et proposons leur illustration à travers quatre études. Celles-ci portent sur l'évaluation de différentes interventions dans des contextes de maladies chroniques ou de problèmes de santé variables : 1) Jeu vidéo thérapeutique dans le cadre de la réadaptation physique de la maladie de Parkinson, 2) Intervention musicale en Soins Palliatifs, 3) Hypnose face aux restrictions hydriques de patients sous hémodialyse et 4) Séances de shiatsu face à la dysménorrhée primaire. Ces études rendent compte de résultats intéressants, et permettent de discuter des forces et faiblesses de cette méthode. Nous plaidons alors en sa faveur du fait de ses principes expérimentaux légitimes ainsi que son adéquation avec la pratique fondée sur la preuve. Nous profitons enfin de la faible qualité des études que nous avons menées pour dresser une liste de recommandations et d'écueils à considérer afin de les employer de façon optimale.
Fichier principal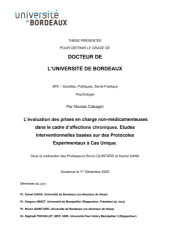 CALCAGNI_NICOLAS_2020.pdf (19.43 Mo)
Télécharger le fichier
Origin : Version validated by the jury (STAR)