On the outskirts of the French Parliament : the Delegation for Women's Rights : a sociology of the National Assembly and legislative work
Aux marges du Palais : la Délégation aux Droits des Femmes : contribution à une sociologie de l'Assemblée nationale et du travail législatif.
The French Parliament under the Fifth Republic has often been found weak when it comes to legislative prerogatives, but this does not mean that MPs have given up on trying to draft the laws. Quite the contrary: every day, parliamentarians get involved, they amend projects, defend their bills, and sometimes even win the day. Taking their involvement seriously, this research aims to show why Parliament matters, from the example of the National Assembly's Delegation for Women's Rights. Even though the Delegation can be argued to be of secondary importance, it definitely played a part in some bills being passed, including controversial ones. The angle we chose – considering legislative work from the outskirts of Parliament – enables us to highlight the strategies and efforts made by those MPs to take part in the legislative process. The research is based on interviews as well as archive work. Beyond the sole logics of parliamentary feminism, this dissertation aims to contribute to a sociology of political careers and to a sociology of law-making. The first half emphasizes how the Delegation, though marginal, works as a space for MPs to learn the skills to navigate parliamentary life, contributing to a lasting interest in law-making for the Delegation members, and shaping their careers. The second half is dedicated to the MPs daily activities, and shows how legislative activity gets entangled with representation. We come to describe the legislative work as a succession of interactions that aim at symbolically reframing the stakes of the debate, and alter social relations and loyalties amongst MPs, which allow them to circumvent the rules, and sometimes take the upper-hand.
La faiblesse du pouvoir législatif du Parlement français, souvent déplorée, ne signifie pas que les parlementaires ont abandonné tout espoir de peser sur la fabrique des lois. Chaque jour, au contraire, des députés s'impliquent dans l'hémicycle, se battent pour amender un projet, et parfois même finissent par l'emporter. Prenant au sérieux cet investissement, ce travail entend éclairer l'importance de ce qui se passe au Parlement, à partir de l'exemple de la Délégation aux droits des femmes de l'Assemblée nationale. Espace parlementaire marginal, on retrouve pourtant son influence derrière l'adoption de certaines mesures. Le choix de ce point de vue – celui du travail législatif depuis ses marges – permet de mettre en lumière toutes les stratégies et les efforts des députés pour prendre part au processus législatif. L'enquête s'appuie sur des entretiens ainsi que sur des archives parlementaires. Au-delà des ressorts du féminisme parlementaire, cette thèse veut contribuer à la sociologie de la professionnalisation politique et à la sociologie du travail législatif en général. Une première partie met en lumière la manière dont, même au sein d'un espace marginal, se met en place un apprentissage spécifique du métier de parlementaire qui contribue à intéresser durablement les membres de la Délégation au travail législatif, et à construire leurs carrières. La seconde partie est consacrée à l'activité concrète des députés, et présente le travail législatif comme prolongement de l'activité de représentation. On vient alors montrer le travail de recadrage symbolique et d'entretien des relations sociales qui leur permet de contourner les règles, et de gagner, parfois, l'avantage.
Fichier principal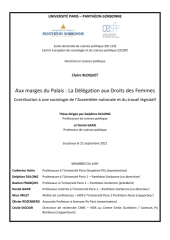 BLOQUET.pdf (4.71 Mo)
Télécharger le fichier
Origin : Version validated by the jury (STAR)