Analysis of possibility of obtaining biomaterial coatings using solution precursor plasma spray process
Analyse de possibilités de formation de dépôts de biomatériaux par la projection plasma de solution.
Hydroxyapatite (HA) is widely used as coating material for hip implant due to its exceptional bioactivity. It is also flexible and can accommodate ions into its structure. Zinc (Zn) is a good dopant ion as it stimulates bone formation and exhibits useful antibacterial characteristics which can help fight surgical infections. HA-coated hip implants are conventionally prepared by powder plasma spraying process. An emerging process called solution precursor plasma spraying (SPPS) is an interesting one as it allows for the deposition of coatings having nanometric/ submicrometric features. This research work presents about the fabrication of HA and Zn doped HA coatings by SPPS. The influence of starting solution precursors and operational spray process parameters to the microstructural characteristics of HA is discussed. The coating build-up mechanisms of the obtained coatings using different sets of precursors are presented. Moreover, different models are used to describe the mechanical properties of the SPPS HA coatings and are correlated to their microstructures. Mechanism of Zn doping to HA by SPPS and its role for inhibiting HA formationare demonstrated. Finally, the in-vitro behaviour under simulated body fluid (SBF) is presented. Bone-like apatite layer on HA coating"s surface is formed but the experiment validated the inhibiting effect of Zn to apatite formation.
L'hydroxapatite (HA) est largement utilisée comme matériau de revêtement pour l'implant de la hanche en raison de sa bioactivité exceptionnelle. Il est également flexible et peut accueillir des ions dans sa structure. Le zinc (Zn) est un bon ion dopant comme il stimule la formation osseuse et présente des caractéristiques antibactériennes utiles qui peuvent aider à lutter contre les infections chirurgicales. Les implants de hanche revêtus d"HA sont classiquement préparés par pulvérisation par plasma en poudre. Un processus émergent appelé projection de plasma de précurseur de solution (SPPS) est intéressant car il permet le dépôt de revêtements ayant des caractéristiques nanométriques/submicrométriques. Ce travail de recherche porte sur la fabrication de revêtements d"HA et HA dopés Zn par SPPS. L'influence des précurseurs de solution de départ et des paramètres opérationnels du processus de projection sur les caractéristiques microstructurales d"HA est discutée. Les mécanismes de croissance des revêtements obtenus en utilisant différents séries de précurseurs sont présentés. En outre, différents modèles sont utilisés pour décrire les propriétés mécaniques des revêtements HA par SPPS et sont corrélés à leurs microstructures. Le mécanisme de dopage en Zn à d"HA par SPPS et son rôle pour inhiber la formation d'HA sont démontrés. Enfin, la comportement in vitro sous fluide corporel simulé (SBF) est présentée. On forme une couche d'apatite de type osseux sur la surface du revêtement HA, mais l'expérience a validé l'effet inhibiteur du Zn sur la formation d"apatite.
Fichier principal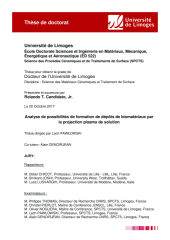 2017LIMO0067.pdf (815.29 Mo)
Télécharger le fichier
Origin : Version validated by the jury (STAR)