The « school career » of Blaise Pascal. Author policy and philosophical canonization in 19th-century France (1809-1914).
La "carrière scolaire" de Blaise Pascal. Politique des auteurs et canonisation philosophique en France au XIXe siècle (1809-1914)
In this dissertation, I study the conflictual process which led, in France, to the institutionalization of philosophy as an autonomous discipline and to the formation of a philosophical "canon", that is, a particular set of problems and texts by which philosophy defines itself. For this purpose, I focus on the reception of Blaise Pascal in the scholastic institution between 1809 and 1914. Pascal has a singular position in the formation of the French canon. He is neither a neglected philosophical figure, nor an unquestioned one. In fact, his highly polemical reception during the 19th century is structured by questions related to the criteria of inclusion or exclusion from the canon. Thus, accounting for the reception of Pascal in the scholastic institution enables me to clarify the requirements for a philosophy to be considered acceptable in 19th-century France. Those are, first, internal requirements: to have one's works critically edited, so that its theoretical aspects are manifest. They are also external requirements: to be considered a morally acceptable philosophy (in oppositions to the supposed "scepticism" of Pascal), and to be compatible with the ongoing process of laïcisation of French institutions. I expect this research to have effects upon our current practices as historians of philosophy, as we are not always fully aware of our criteria when appreciating a specific philosophy.
Cette thèse entend rendre compte du processus conflictuel par lequel, en France, la philosophie s'est constituée comme une discipline autonome, et s'est dotée d'un « canon » d'auteurs et de problèmes par lesquels elle se définit. Je l'analyse par le prisme de la réception de Blaise Pascal dans l'institution scolaire française entre 1809 et 1914. En effet, cet auteur occupe une position tout à fait singulière dans le processus de formation du canon. Il n'est ni un « oublié » ni une de ses grandes figures indiscutées de la philosophie. Sa réception très polémique au XIXe siècle est même structurée par les questions relatives aux critères d'entrée – ou de sortie – du canon. Étudier la place de Pascal dans l'institution scolaire me permet ainsi de mettre au jour les critères selon lesquels une philosophie devient acceptable comme telle en France au XIXe siècle. Ceux-ci sont à la fois internes (édition critique et fiable des œuvres, mise en évidence de leur portée théorique) et externes (acceptabilité morale d'une philosophie longtemps perçue comme « sceptique », compatibilité avec l'affirmation de la laïcité des institutions). Des effets de cette recherche sont attendus en retour sur notre pratique d'historiens et historiennes de la philosophie, dans la mesure où nous n'avons pas toujours conscience des critères selon lesquels nous apprécions telle ou telle philosophie.
Fichier principal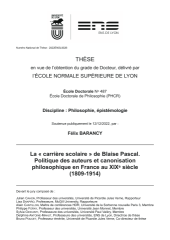 BARANCY_Felix_2022ENSL0028_These.pdf (20.35 Mo)
Télécharger le fichier
Origin : Version validated by the jury (STAR)