Growth and Competition: Institutional Dynamics of International Aid NGOs.
Croissance et concurrence : dynamiques institutionnelles des ONG d'aide internationale.
This thesis focuses on Non-Governmental International Aid Organisations (IANGOs), with a view to study their present forms. IANGOs have become transnational organisations with several thousand employees, ever-increasing budgets and scales of action, operating within the specific institutional framework of international aid. The 90's saw a huge increase in their number and activities, promoted by aid institutions, yet today IANGOs are criticised both for their limited effectiveness and impact, as well as for their marketisation or depoliticisation. Are IANGOs field-work organisations that foster socio-economic transformations in countries of the South, or rather western service providers of an outdated aid industry? What changes have they undergone in the last thirty years? What impact have the phenomena of growth and competition in the sector had on them? From an institutionalist perspective, the thesis uses a mixed method approach to study the industrialisation of the sector at different levels. Quantitative techniques (data mining, statistical and network analyses) are supplemented by original empirical content (individual and collective interviews, observant participation) enabled by privileged access to rarely accessible data and groundwork. Considering the lack of data and economic analyses on the subject, the thesis first seeks to measure the growth and competition of IANGOs by creating and subsequently analysing an original database. This provides insights into how the funding models of IANGOs structure the sector in France. The thesis then proceeds with an in-depth study of three IANGOs and reveals two prominent institutional rationales affecting them: a quest for financial growth and the internalisation of market competition. Finally, this analysis considers the instrumentation of these rationales, and the underlying ideological issues at stake, with the study of two tools of international aid: quality approaches and grant calls for European funds. Through interdisciplinary contributions, the analysis thus sheds new light on the interplay of actors in the sector and the socio-economic, institutional, and normative processes in which they are embedded. It urges us to re-politicise development economics reflections on the effectiveness, scales and impacts of IANGOs, at a time when the sector comes under increasing scrutiny and questioning ("Shift the Power" manifesto, "Time to Decolonise Aid" movement).
Cette thèse d'économie politique porte sur les organisations non gouvernementales d'aide internationale (ONGAI), et se propose d'étudier leurs formes contemporaines. Les ONGAI sont devenues des organisations transnationales de plusieurs milliers de salariés, aux budgets et échelles d'action toujours croissants, agissant dans des configurations institutionnelles spécifiques : acteurs et environnement de l'aide internationale, modèles particuliers de financement... Si elles ont connu un véritable boom depuis les années 1990, promues par les institutions de l'aide, elles sont aujourd'hui critiquées aussi bien pour leurs efficacité et impacts limités, que pour leur marchandisation ou dépolitisation. Sont-ellesdes organisations de terrain permettant des transformations socio-économiques dans les pays des Suds, ou sont-elles avant tout des prestataires occidentales d'une industrie de l'aide dépassée ? Quelles mutations ont-elles connu ces trente dernières années ? En particulier, quels impacts les phénomènes de croissance et de concurrence du secteur ont-ils eu sur les ONGAI ? Dans une perspective institutionnaliste, la thèse propose une méthodologie mixte permettant une étude de la problématique d'industrialisation des ONGAI, à différents niveaux. Elle mobilise des techniques quantitatives (extraction et fouille de données, analyses statistiques et de réseaux) comme des contenus empiriques originaux(entretiens individuels et collectifs, participation observante) par l'accès privilégié à des données et des terrains rarement accessibles. Constatant le manque de données et d'analyses économiques sur le sujet, la thèse cherche dans un premier temps à mesurer la croissance et la concurrence des ONGAI, par la création et l'analyse d'une base de données inédite. Elle permet de comprendre comment les modèles économiques des ONGAI structurent le secteur en France. La thèse propose ensuite une étude de trois ONGAI depuis « l'intérieur », révélant les logiques institutionnelles dominantes qui s'imposent aux acteurs : une quête de croissance financière et l'intériorisation d'une logique de concurrence. Enfin, elle prolonge l'analyse en s'intéressant à l'instrumentation de ces logiques, et aux enjeux idéologiques sous- jacents, par l'étude de deux outils de l'aide internationale : les démarches qualité et les appels à projets européens. Par des apports interdisciplinaires, l'analyse éclaire ainsi les jeux d'acteurs dans le secteur et les processus socio-économiques, institutionnels et normatifs dans lesquels ils s'inscrivent. Elle invite à re-politiser les réflexions d'économie du développement sur l'efficacité, les échelles et les impacts des ONGAI, alors même que des questionnements profonds bousculent le secteur (manifeste Shift the Power, mouvement Time to Decolonise Aid).
Fichier principal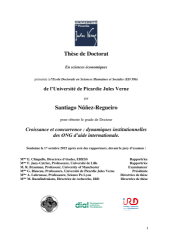 Thèse NUNEZ-REGUEIRO Santiago V200423.pdf (6.82 Mo)
Télécharger le fichier
Origin : Files produced by the author(s)