Freedom and liberalism in the intellectual culture of 19th century Argentina : reception of philosophies and political debates
Libertad y liberalismo en la cultura intelectual del siglo XIX argentino : recepción de filosofías y debates políticos
Liberté et libéralisme dans la culture intellectuelle du XIXe siècle argentin : réception de philosophies et de débats politiques
This doctoral work studies the reception of Benjamin Constant's liberal philosophy during the first half of the 19th century in the Río de la Plata. The hypothesis that guides this work is that with the new historical context that extends between the Revolution of 1810 and the thought of the generation of 1837, a particular framework of reception opens up in which Constant will be read in search of theoretical elements by the revolutionary actors in the River Plate, which will allow them to respond to the new problems generated by the revolutionary event: the foundation of a stable constitutional order in the modern horizon of representative democracy. Indeed, we believe that certain parallels can be drawn between the Rio de la Plata Revolution and the French Revolution that refer to the difficulties in founding long-term institutions, although there were many constitutional experiments on both sides of the Atlantic. In this framework, Constant's ideas will be recovered and applied to different constitutional moments in the Río de la Plata to provide answers to different situations and to suggest forms of political action and institutional designs for the constitutional proposals debated. The question that motivates this paper is why certain philosophies, particularly Constant's, circulated in specific contexts and what questions or objectives of action they sought to answer. In this way, we have addressed, in the first place, the political thought in the River Plate that inaugurated the Revolution, as well as the essays that attempted to respond to that event during the first revolutionary decade. From here, we noted the twists and turns that permeated the intellectual quests, imaginaries and political proposals of the first Rioplatense self-instituent essays. Secondly, we have analysed the thinking of the Generation of thirty-seven, insofar as this group constituted a nucleus of concerns similar to those that promoted liberal reflection in the Gallic world, particularly that of Benjamin Constant: to assume the revolutionary heritage of popular sovereignty, circumscribing it to certain limits that would make it possible to construct a modern representative legal order that would guarantee the rights of the individual.
Este trabajo doctoral estudia la recepción de la filosofía liberal de Benjamín Constant durante la primera mitad del siglo XIX en el Río de la Plata. La hipótesis que guía este trabajo es que con el nuevo contexto histórico que se extiende entre la Revolución de 1810 y el pensamiento de la generación de 1837, se abre un marco de recepción particular en el que Constant será leído en búsqueda de elementos teóricos por parte de los actores revolucionarios rioplatenses, que permitan responder a los nuevos problemas generados por el acontecimiento revolucionario: la fundación de un orden constitucional estable en el horizonte moderno de la democracia representativa. En efecto, creemos que entre la Revolución rioplatense y la francesa pueden establecerse ciertos paralelismos que refieren a las dificultades en fundar instituciones de largo plazo, aunque no fueron pocos los experimentos constitucionales a ambos lados del Atlántico. En este marco, las ideas de Constant serán recuperadas y aplicadas en distintos momentos constitucionales del Río de la Plata para dar respuestas a situaciones diversas y sugerir formas de acción política y diseños institucionales para las propuestas constitucionales debatidas. La pregunta que motiva este trabajo es por qué ciertas filosofías y, particularmente la de Constant, circularon en contextos específicos y a qué preguntas u objetivos de la acción se buscaba responder con ellas. De esta forma, hemos abordado, en primer lugar, el pensamiento político rioplatense que inaugura la Revolución, así como los ensayos que intentan responder a ese acontecimiento durante la primera década revolucionaria. A partir de aquí advertimos las torsiones y las orientaciones que impregnaron las búsquedas intelectuales, los imaginarios y las propuestas políticas de los primeros ensayos autoinstituyentes rioplatenses. En segundo lugar, hemos analizado el pensamiento de la Generación del treinta y siete, en tanto se constituye, en este grupo, un núcleo de preocupaciones similares a las que promovieron la reflexión liberal en el mundo galo, y particularmente la de Benjamín Constant: asumir la herencia revolucionaria de la soberanía popular, circunscribiéndola a ciertos límites que permitan construir un orden legal representativo moderno y garante de los derechos del individuo.
Ce travail de doctorat étudie la réception de la philosophie libérale de Benjamin Constant pendant la première moitié du XIXe siècle dans le Río de la Plata. L'hypothèse qui guide ce travail est qu'avec le nouveau contexte historique qui s'étend entre la Révolution de 1810 et la pensée de la génération de 1837, s'ouvre un cadre de réception particulier dans lequel Constant sera lu à la recherche d'éléments théoriques par les acteurs révolutionnaires de la Plata, qui leur permettront de répondre aux nouveaux problèmes générés par l'événement révolutionnaire : la fondation d'un ordre constitutionnel stable dans l'horizon moderne de la démocratie représentative. En effet, nous pensons que l'on peut établir certains parallèles entre la Révolution du Rio de la Plata et la Révolution française qui renvoient aux difficultés de fonder des institutions à long terme, bien qu'il y ait eu de nombreuses expériences constitutionnelles des deux côtés de l'Atlantique. Dans ce cadre, les idées de Constant seront récupérées et appliquées à différents moments constitutionnels du Río de la Plata afin de fournir des réponses à différentes situations et de suggérer des formes d'action politique et des conceptions institutionnelles pour les propositions constitutionnelles débattues. La question qui motive cet article est de savoir pourquoi certaines philosophies, en particulier celle de Constant, ont circulé dans des contextes spécifiques et à quelles questions ou objectifs d'action elles cherchaient à répondre. De cette façon, nous avons abordé, en premier lieu, la pensée politique de la Plata qui a inauguré la Révolution, ainsi que les essais qui ont tenté de répondre à cet événement pendant la première décennie révolutionnaire. De là, nous avons noté les rebondissements qui ont imprégné les quêtes intellectuelles, les imaginaires et les propositions politiques des premiers essais d'auto-institution du Rioplatense. En second lieu, nous avons analysé la pensée de la Génération des trente-sept, dans la mesure où ce groupe constituait un noyau de préoccupations similaires à celles qui ont promu la réflexion libérale dans le monde gaulois, notamment celle de Benjamin Constant : assumer l'héritage révolutionnaire de la souveraineté populaire, en le circonscrivant à certaines limites qui permettraient de construire un ordre juridique représentatif moderne garantissant les droits de l'individu.
Fichier principal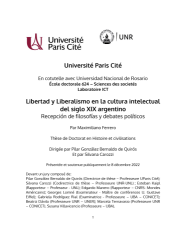 FERRERO_Maximiliano_va2.pdf (3.32 Mo)
Télécharger le fichier
Origin : Version validated by the jury (STAR)