Information Flow Security for Asynchronous, Distributed, and Mobile Applications
Sécurité par contrôle de flux d'applications asynchrones, distribuées et mobiles
The objective for this work is to propose a security solution to regulate information flows, specifically through an access and flow control mechanism, targeted to distributed applications using active objects with asynchronous communications. It includes a security policy and the mechanism that will enforce the rules present in such policies.
Data confidentiality and secure information flows is provided through dynamic checks in communications. While information flows are generally verified statically, our attention is focused on dynamic verifications. To achieve it, the proposed model has an information control policy that includes discretionary rules, and because these rules are by nature dynamically enforceable, it is possible to take advantage of the dynamic checks to carry out at the same time all mandatory checks. As another advantage of this approach, dynamic checks do not require to modify compilers, do not alter the programming language, do not require modifications to existing source codes, and provide flexibility at run-time. Thus, dynamic checks fit well in a middleware layer which, in a non-intrusive manner, provides and ensures security services to upper-level applications. The underlying programming model is based on active objects, asynchronous communications, and data-flow synchronizations.
L´objectif pour ce travail est de proposer une solution de sécurité pour contrôler des flux d´information, spécifiquement par un mécanisme de contrôle d´accès et de flux. L´objectif vise les applications réparties en utilisant les objets actifs avec des communications asynchrones. Il inclut une politique de sécurité et les mécanismes qui imposeront les règles présentes dans de telles politiques.
La confidentialité des données et des flux d´information sécurisés est fournie par une vérification dynamique des communications. Tandis que les flux d´information sont généralement vérifiés statiquement, notre attention est concentrée sur des vérifications dynamiques. Pour la réaliser, le modèle proposé a une politique de contrôle de l´information qui inclut des règles discrétionnaires, et comme ces règles sont dynamiquement exécutables, il est possible de tirer profit des contrôles dynamiques pour effectuer en même temps tous les contrôles obligatoires. Les autres avantages de cette approche font que: les contrôles dynamiques n´exigent pas la modification des compilateurs, ne changent pas le langage de programmation, n´exigent pas des modifications aux codes sources existants, et fournissent une flexibilité au moment d´exécution. Ainsi, les contrôles dynamiques sont bien adaptés pour être inclus dans une couche logiciel de type middleware, qui, d´une façon non-intrusive, fournit et assure des services de sécurité aux applications de niveau supérieur. Le modèle de programmation fondamental est basé sur les objets actifs, les communications asynchrones, et les synchronisations de flux de données.
Fichier principal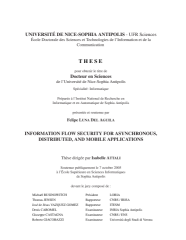 tel-000105451.pdf (649.86 Ko)
Télécharger le fichier
tel-00010545.pdf (448.33 Ko)
Télécharger le fichier