Computer-mediated collective learning and foreign language education: instrumentation, learning environments and tutoring.
Apprentissages collectifs médiatisés et didactique des langues : instrumentation, dispositifs et accompagnement pédagogique
This thesis examines the potential of sociocultural theory, which considers human cognition as mediated through humans and cultural tools, and its impact on the domain of applied linguistics, particularly with respect to foreign language education. The analysis uses an experimental learning environment for future language teachers, while taking into consideration the social and technological dimensions of this training context. This study uses data from a pre-professional training project combining classroom meetings and online collaboration tools (called « le français en "première" ligne ») and has two research objectives: 1) to analyse the practices and inter-individual processes as situated in the technological environment and distributed amongst learners. 2) to develop powerful hybrid learning environments with a view to aiding training practices.
Theoretically underpinning this project is the idea that cognition is mediated through both social relations and cultural tools, and therefore the framework draws heavily on sociocultural theory. Using an interdisciplinary approach, this work draws on four approaches that are often associated with sociocultural theory: 1) activity theory, distributed cognition, situated cognition, and socially shared cognition. Also used within the project's analysis is the interdisciplinary field of Computer Based Collaborative Learning (CSCL).
Cette thèse s'inscrit dans le domaine des sciences du langage et plus particulièrement de la didactique des langues. Elle contribue à l'étude d'une double situation de formation et d'enseignement/apprentissage en français langue étrangère, dans ses dimensions à la fois sociales et technologiques. Le terrain d'analyse est un dispositif hybride de formation aux TICE à destination de futurs enseignants de FLE (projet « le français en « première » ligne »). Ainsi, cette étude a-t-elle une double visée : d'une part une visée herméneutique, analysant des usages et des processus interindividuels comme étant situés dans l'environnement technologique et distribués entre acteurs ; d'autre part, une visée praxéologique, dont l'objectif est la conception de dispositifs et l'amélioration des pratiques de formation.
La problématique part du constat que les processus cognitifs se forgent dans le rapport à l'autre et dans le rapport aux artefacts qui médiatisent la cognition humaine. La théorie socioculturelle fournit alors un bon cadre de référence conceptuel. Selon une approche délibérément interdisciplinaire, cette thèse puise dans quatre approches souvent associées à la théorie socioculturelle : la théorie de l'activité, le paradigme de la cognition distribuée, le paradigme de la cognition située et le paradigme de la cognition socialement partagée. Le champ interdisciplinaire des Apprentissages Collectifs Assistés par Ordinateur (CSCL dans la terminologie anglo-saxonne) est également convoqué.
Fichier principal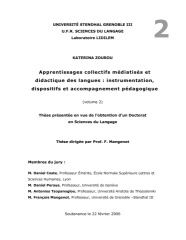 Zourou_2006_vol2_annexes.pdf (8.03 Mo)
Télécharger le fichier
Zourou_2006_vol_1.pdf (2.21 Mo)
Télécharger le fichier