Dynamics of knowledges and know-how in a multicultural context. Comparative study of activities on the coast of Gabon
Dynamique des savoirs et des savoir-faire dans un contexte pluriculturel.
Étude comparative des activités littorales au Gabon
Coasts are ecological as well as human interface spaces. Always populated or travelled through by peoples with different cultures and different languages, they are places where knowledge, know-how and symbolic representations are in constant tension. My PhD research, mainly based on fieldwork carried out in Gabon, has a double vocation: to enhance the understanding of interrelations between man and coast and in between human communities sharing this same environment, and to contribute to the reflection on the way populations acquire, adopt and share knowledge.
To a greater extent, through this concrete case study, the issue of knowledge and know-how dynamics in environmental terms is tackled.
Along the Gabon coast, indigenous populations and migrant communities live side by side and, together, build constantly changing life spaces. My research within this multicultural space allowed me to note disruptions, discrepancies, or elusive changes in the knowledge and practices of individuals and communities. I brought to light diverse cultural dynamics that are effective according to technical and identity criteria: loan, loan refusal, rehabilitation, knowledge transfer from one community to another, innovation, etc.
Beyond the study of the relationship between man and coast, through a fine contextualisation of the practice and the learning of a dozen cultural objects studied more specifically, I identified factors internal and external to the communities, generating change not only in knowledge and know-how, but also in their transmission modes. Assisted by factor analyses, my data then led me to reach the final hypothesis that changes and their causes are closely connected to the social, technical, ecological and symbolic contexts that fundamentally define each type of knowledge.
Les littoraux sont des espaces d'interfaces non seulement écologiques, mais aussi humaines. De tout temps peuplés ou traversés par des hommes de cultures et de langues différentes, ils sont des lieux où savoirs, savoir-faire et représentations symboliques sont en constante tension. Ma recherche doctorale, s'appuyant majoritairement sur des missions de terrain réalisées au Gabon, a une double vocation : mieux appréhender les interrelations existant entre les hommes et le littoral et entre les communautés humaines partageant ce même milieu, et mieux comprendre comment les populations acquièrent, adoptent et partagent les savoirs.
Plus globalement, à travers cette étude de cas concrète, c'est le problème de la dynamique des savoirs et savoir-faire en matière environnementale qui est abordée.
Sur le littoral du Gabon cohabitent des populations autochtones et des communautés migrantes qui, ensemble, construisent des espaces de vie en mutation continuelle. Ma recherche au sein de cet espace pluriculturel m'a permis de constater des bouleversements, des variantes, ou de quasi-imperceptibles changements dans les connaissances et les pratiques des individus et des communautés. J'ai mis au jour des dynamiques culturelles diverses qui se réalisent selon des critères techniques et identitaires : emprunt, refus d'emprunt, réhabilitation, transfert de savoir d'une communauté vers une autre, innovation, etc.
Au-delà de l'étude de la relation entre les hommes et le littoral, grâce à une contextualisation fine de la pratique et de l'apprentissage d'une dizaine d'objets culturels étudiés plus spécifiquement, j'ai identifié des facteurs internes et externes aux communautés, engendrant des changements non seulement dans les savoirs et savoir-faire, mais aussi dans les modalités de leur transmission. Avec l'assistance des analyses factorielles, mes données m'ont alors conduite à poser l'hypothèse finale que les changements et les raisons de ceux-ci sont étroitement liés aux contextes sociaux, techniques, écologiques et symboliques qui définissent fondamentalement chaque type de savoir.
Fichier principal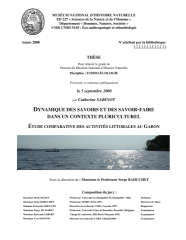 Sabinot_2008_these.pdf (28.49 Mo)
Télécharger le fichier

Sabinot_2008_annexes.pdf (12.84 Mo)
Télécharger le fichier