La fabrication d'une ville nouvelle sous le Protectorat français au Maroc (1912-1956) : Fès-nouvelle
Across fassi case, this thesis analyses the mechanisms of the creation of a new city under the French Protectorate in Morocco. Thanks to the study of often not much exploited funds of archives, it aims to renew historiography by studying distortions between a posteriori theorized urban ideal by Louis-Hubert Lyautey and its collaborators and constructed reality. The author studies the administrative organization of the Protectorate to understand the role of central and local services and intervention capacity of the population in the creation of the new cities. Then, she analyses official doctrine and the adaptation of prescripts with fassi context, and shows how the architectural landscape constructs according to directives official, of the status of the masters of work, their taste and that of the owners. She approaches the transformation of the medina finally and is studying how she articulates with patrimonial policy.
Á travers le cas Fassi, cette thèse analyse les mécanismes de la fabrication d'une ville nouvelle sous le Protectorat français au Maroc. Grâce à l'étude de fonds d'archives souvent peu exploités, elle ambitionne de renouveler l'historiographie en étudiant les distorsions entre l'idéal urbain théorisé a posteriori par le résident Lyautey et sa kyrielle de collaborateurs et la réalité construite. L'auteur étudie l'organisation administrative du Protectorat afin de comprendre le rôle des services centraux et locaux et la capacité d'intervention de la population dans la fabrication des villes nouvelles. Elle analyse ensuite la doctrine officielle et l'adaptation des prescriptions au contexte fassi, et montre comment le paysage architectural se construit en fonction des directives officielles, du statut des maîtres d'œuvre, de leur goût et celui des propriétaires. Elle aborde enfin la transformation de la médina et étudie de quelle manière elle s'articule à la politique patrimoniale.
Fichier principal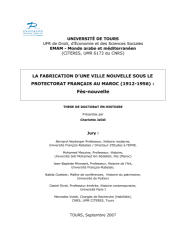 JELIDIVolume1.pdf (2.62 Mo)
Télécharger le fichier
JELIDIVolume2.pdf (56.4 Mo)
Télécharger le fichier