Environnement de réalité augmentée 3D coopératif : approche colocalisée sur table
Augmented Reality (AR) can be defined as the mixing of the real world and the virtual world. This thesis explores the application of AR under a collaborative context for 3D tasks (architecture, chemistry,virtual prototyping, etc.). We focus on the meeting aspect, where peoples around a table can act simultaneou-sly on virtual elements in a shared space.
Study and analysis of the requirements lead us to the development of a new software platform named MARE (Multiuser Augmented Reality Environment). This provided the infrastructure to experiment, study and develop a framework for AR. This work makes several contributions:
1. Defines a new software and hardware architecture that is modular, extensible, ergonomic, and reacts in real-time.
2. Implements novel and intuitive calibration methods for registering the virtual world to the real world. Techniques are based on a user-guided approach.
3. Demonstrates different interaction metaphors for manipulating virtual objects with a dimensional decomposition dependent of the task. We also propose a new high-level hybrid user interface for AR 3D tabletop situation (virtual documents).
4. Describes a new kind of hybrid interaction between real and virtual objects, with an interactive virtual painting prototype on real objects.
5. Using of CSCW results and his implement on 3D AR. It conduct us to introduce several groupware principles like data protection, user helping or activity coordination.
Moreover, experiments with our system and numerous evaluations give us the opportunity to demonstrate the practicality of this approach. Finally, this work provides and defines a minimum set of components and requirements for realizing efficiently a 3D Augmented Reality Environment on table.
La Réalité Augmentee (RA) peut être définie comme le mélange du monde réel et du monde virtuel. Basée sur ce concept, cette thèse s'intéresse à l'application de la RA dans un cadre de collaboration pour des tâches 3D. Nous nous sommes plus particulièrement concentrés sur le concept de réunion autour d'une table dans lequel plusieurs personnes peuvent manipuler simultanément des éléments virtuels 3D dans un espace partagé.
L´etude et l'analyse des besoins a permis de mettre en place un environnement nommé MARE (Multiuser Augmented Reality Environment) qui fournit un cadre d´etude, d'expérimentations et de développement d'applications de RA collaboratives 3D. Ce travail a dégagé un certain nombre de contributions :
1. la définition d'une architecture logicielle et une nouvelle plate-forme matèrielle hétérogène offrant un intérêt particulier de modularité, d'extensibilité, d'ergonomie et de temps réel ;
2. de nouvelles techniques de calibrage statique simples et intuitives pour l'alignement réel/virtuel basées sur une approche guidée par l'utilisateur ;
3. différentes métaphores d'interactions pour la manipulation d'objets virtuels avec une décomposition dimensionnelles des tâches applicatives, mais aussi avec un nouveau concept d'interface hybride haut niveau (documents virtuels) ;
4.un nouveau type d'interaction hybride entre éléments réels et virtuels, avec un prototype de peinture virtuelle interactive sur des objets réels ;
5.l'utilisation des travaux liés au collaboratif dans un cadre de RA 3D, en proposant ainsi différentes méthodes pour la protection des données mais aussi l'assistance utilisateur ou la coordination des actions.
En complément, des expérimentations avec notre système et de nombreuses évaluations nous ont servi à montrer l'intérêt de cette approche. Finalement, ce travail permet de définir une première base de critères nécessaires pour une mise en oeuvre efficace d'environnement de réalité augmentée collaboratif 3D sur table.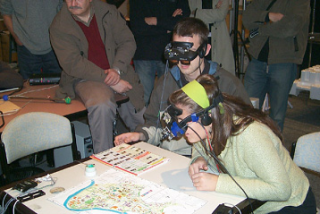 image6.jpg (54.89 Ko)
Télécharger le fichier
Fichier principal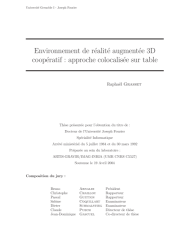 these.pdf (17.49 Mo)
Télécharger le fichier

calibProc.wmv (16.43 Mo)
Télécharger le fichier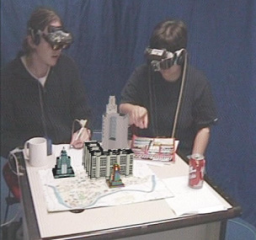 image1.jpg (36.94 Ko)
Télécharger le fichier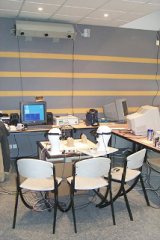 image2.jpg (42.3 Ko)
Télécharger le fichier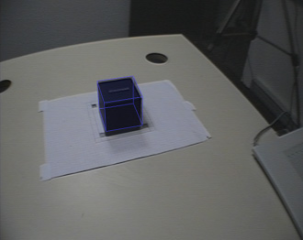 image3.jpg (20.68 Ko)
Télécharger le fichier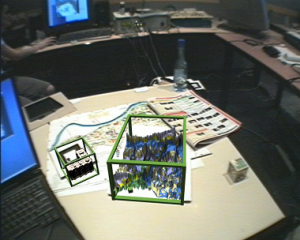 image4.jpg (56.4 Ko)
Télécharger le fichier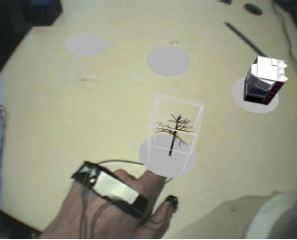 image4b.jpg (26.56 Ko)
Télécharger le fichier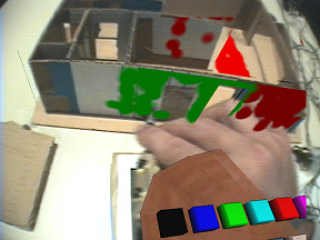 image5.jpg (33.73 Ko)
Télécharger le fichier

inter3D.avi (3.43 Mo)
Télécharger le fichier

interslide2D.avi (3.27 Mo)
Télécharger le fichier

mare04.avi (6.8 Mo)
Télécharger le fichier

moveFinger.wmv (14.65 Mo)
Télécharger le fichier

moveObject.wmv (9.59 Mo)
Télécharger le fichier

navnaturel.avi (962.5 Ko)
Télécharger le fichier

pres.ppt (26.16 Mo)
Télécharger le fichier