New nucleic acid fluorescent or paramagnetic probes: applications to structural analyses of DNA damages and their repair on a solid support.
Nouvelles sondes oligonucléotidiques fluorescentes ou paramagnétiques : applications à l'étude structurale des lésions de l'ADN et à leur réparation sur support.
DNA which is the support of genetic information is constantly subjected to damaging agents. These processes can lead to structural modifications of the DNA molecule and harmful biological consequences, such as mutagenesis or cancer. DNA damages can be repaired by enzymatic complexes which restore the original sequence of the biopolymer. In this study we were interested in structural aspects of DNA lesions and in their repair by the base excision repair (BER) and the reversion repair (RR) pathways. The present work consisted in developing a new tool in a biochip format aim at detecting these repairs activities by fluorescence measurement. Thus, hairpin-shaped damaged oligonucleotides were grafted on glass slides by a click chemistry approach. After optimization of the immobilization conditions, by click chemistry, this new biosensor was validated for the detection of repair activities using purified enzymes (glycosylases and AP-endonucleases) and cell extracts. Using a similar approach, we adapted this microarray to measure reversion repair and to screen DNA repair inhibitors. In a second part of this work, we applied the pulsed electron paramagnetic resonance (pulsed EPR) technique to study structural deformation induced by several DNA damages. To achieve this goal we developed a multiple site-specific labelling procedure of the DNA probes by nitroxide radicals. Then, pulsed EPR was used for the first time to detect an enzymatic DNA repair activity.
L'ADN, support de l'information génétique, est constamment soumis à des stress l'endommageant. Ceci peut conduire à des modifications structurales de la molécule d'ADN et à des conséquences biologiques néfastes de type mutagénèse ou cancérogénèse. Les lésions de l'ADN peuvent être réparées par des complexes enzymatiques qui restaurent la séquence originale. Dans le présent travail nous nous sommes intéressés aux aspects structuraux des lésions de l'ADN et à leur réparation par excision de base (BER) ou par réversion (RR). Notre travail a consisté à développer un nouvel outil de type biopuce pour détecter ces activités de réparation par mesure de fluorescence. Pour cela des oligonucléotides lésés auto-complémentaires ont été immobilisés sur des lames de verre. Après avoir mis au point les conditions d'immobilisation, par la chimie click, nous avons validé ce nouveau biocapteur pour la détection d'activités de réparation d'enzymes purifiées (glycosylases et AP-endonucléases) ou au sein d'extraits cellulaires. Utilisant un principe similaire, nous avons adapté cette biopuce pour mesurer les activités de réparation par réversion ainsi que pour le screening d'inhibiteurs. Dans une seconde partie de ce travail, nous avons appliqué la technique de résonance paramagnétique électronique pulsée (RPE pulsée) pour étudier la déformation structurale induite par plusieurs dommages de l'ADN. Pour cela nous avons développé une méthode de multi-marquage de l'ADN par des radicaux nitroxydes. Cette technique a alors été appliquée pour la première fois à la détection d'une activité enzymatique de réparation de l'ADN.
Fichier principal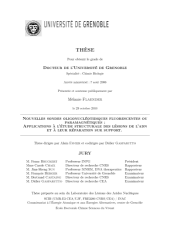 These-MelanieFlaender.pdf (17.22 Mo)
Télécharger le fichier
Soutenance-MelanieFlaender.pdf (1.74 Mo)
Télécharger le fichier