Spatial planning of maritime space in metropolitan France: a major issue in the implementation of Integrated Coastal Zone Management.
La planification des espaces maritimes en France métropolitaine : un enjeu majeur pour la mise en œuvre de la Gestion Intégrée de la Mer et du Littoral.
Over the centuries society has modified its representation of marine space, moving from the concept of " empty oceans " to that of " saturated seas ".Indeed, in addition to " traditional " established activities (commercial fishing, navigation etc.) have been superimposed the intensification of certain practices (extraction of marine aggregates, leisure navigation etc.) and also new activities which, until now, have been purely terrestrial or coastal but which are destined for development in the open sea (marine renewable energy, offshore aquaculture etc.). In the face of these new developments, the necessity of conserving the marine environment has also encouraged the multiplication of marine protected areas (marine nature parks, Natura 2000 sites, etc.). There is thus an increase in the demand for maritime space which the actual availability of space cannot respond to, outside of integrated management enabling the cohabitation between all the various maritime activities. But the particularities of maritime space call for a specific approach. Nowadays, Integrated Coastal Zone Management (ICZM) is a procedure which is recognized at an international level in response to these issues. But its applications are still too often limited to an experimental stage and the feedback on experiments show that they are limited to coastal land or to confined maritime spaces.It is in this context that Maritime Spatial Planning (MSP) would seem to be useful, enabling the extension of the principles of ICZM towards the sea. After studying the implications of MSP, in particular thanks to the analysis of existing experiences at an international level, this thesis focuses on an evaluation of the position of France in relation to MSP in the context of the elaboration of its strategy of Integrated Management of the Sea and Coastline (IMSC).The theoretical aspects of MSP are compared to the conditions on the ground at different levels and, in particular, to those of the maritime basin of Lorient.This approach enables the identification of key elements and issues related to the application of MSP in the context of metropolitan France.
La représentation que la société se fait de l'espace maritime a évolué au cours des siècles passant de l'idée de " solitudes océaniques " à celle de " mers pleines ". En effet, aux activités " traditionnelles " déjà existantes (pêche professionnelle, navigation, etc.), se superposent l'intensification de certaines pratiques (extraction de granulats marins, navigation de plaisance, etc.), mais aussi de nouvelles activités, jusque là purement terrestres ou côtières, amenées à se développer vers le large (énergies marines renouvelables, aquaculture offshore, etc.). Face à ces enjeux de développement, la nécessité de conserver le milieu marin favorise également la multiplication d'aires marines protégées (parc naturels marins, sites Natura 2000 en mer, etc.). On assiste donc à une augmentation des demandes d'espaces en mer à laquelle les disponibilités réelles ne peuvent répondre sans une gestion intégrée permettant la cohabitation entre l'ensemble des activités maritimes. Mais les particularités de l'espace maritime nécessitent une approche spécifique. La Gestion Intégrée des Zones Côtière (GIZC) est aujourd'hui une démarche reconnue à l'échelle internationale en réponse à ces enjeux. Mais ses applications sont trop souvent encore au stade expérimental et les retours d'expériences montrent qu'elles se sont limitées à la frange littoral terrestre ou à des espaces maritimes fermés. C'est dans ce contexte qu'apparaît utile la Planification Spatiale Maritime (PSM), permettant d'étendre en mer les principes de la GIZC. Après avoir étudié le sens de la PSM notamment au travers l'analyse d'expériences à l'échelle internationale, cette thèse s'attache à évaluer la position française vis-à-vis de la PSM dans le contexte de construction de sa stratégie de Gestion Intégrée de la Mer et du Littoral (GIML). Les aspects théoriques de la PSM sont confrontés avec les réalités du terrain à différentes échelles et plus particulièrement à celle du bassin maritime de Lorient. Cette démarche permet d'identifier les éléments clés et les enjeux de la mise en œuvre de la PSM dans le contexte français métropolitain.
Fichier principal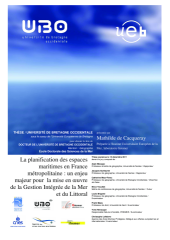 These_MDC_VF.pdf (63.32 Mo)
Télécharger le fichier

Soutenance_MDC.pdf (2.15 Mo)
Télécharger le fichier