Mining societies in the Central Northern Area of New Spain in the 18th century : formation and evolution of a "mestizo" word
Las sociedades mineras en el Centro Norte de la Nueva España a lo largo del siglo XVIII
Les sociétés minières du Centre-Nord de la Nouvelle-Espagne au XVIIIième siècle : construction et évolution d'un monde métis
My current doctoral research is about the mining societies in Northern and Central New Spain during the 18th century, and especially the region of Zacatecas, Fresnillo and Sombrerete. Within this particular context, I centred my study on the lower classes, a rather heterogeneous social group composed of castas, ladinos and poor Spaniards. This definition leads the reflection towards the analysis of the social stratification from a socio-economical perspective. However, the case of the poor Spaniards, their behaviour and the way they tend to reject the mestizos and other castas (as potential spouses for instance), stressing on their ties to the more powerful group of the Creoles in the process, indicates that the socio-racial component of the social stratification should not be ignored, at least as far as individual and collective mentalities are concerned. This point of view orientates a questioning about the formation of the colonial society and introduces the notion of the perception of one another as well. The confrontation between the colonial reality and the lower classes" perception can be a way of answering this interrogation. The result of this work is the depiction of an extremely complex and fluid society in which several levels of stratification (real / perceived) add up to produce a social mosaic.
El tema de mi investigación doctoral actual trata de las sociedades mineras en el Centro Norte de la Nueva España a lo largo del siglo XVIII, más precisamente en la región de Zacatecas, Fresnillo y Sombrerete. En este contexto, el estudio sigue las "plebes urbanas", un grupo social muy heterogéneo que integra a las castas pero también a los indios ladinos y a la muchedumbre de los criollos pobres, cuyos comportamientos son muy parecidos a los de las castas, o, al contrario, cuya esperanza es demostrar su legítima pertenencia al grupo superior de los Españoles. Este tipo de definición conduce naturalmente a analizar la cuestión de la estratificación social desde una perspectiva esencialmente socio-económica. Sin embargo, el fenómeno de crispación social que se puede observar entre los criollos pobres que rechazan a las castas (sobre todo al momento de eligir una pareja) conduce también a considerar la importancia de las consideraciones de natura socio-racial en las mentalidades y los discursos del siglo XVIII novohispano. Por estas razones, la problemática de mi trabajo es dual: no sólo se interesa a la formación y la evolución de la sociedad colonial pero no olvida los discursos y las percepciones. Por eso elegí un proceso de confrontación entre la realidad colonial reconstituida gracias a la documentación y los discursos elaborados por y sobre las plebes urbanas. Resulta de este esfuerzo la reconstitución de una sociedad sumamente compleja y fluida en la cual diferentes niveles (concreto / mental) de estratificación se añaden para producir una mosaica social.
Mon travail porte sur les sociétés minières du centre-nord de la Nouvelle-Espagne au XVIIIè siècle, notamment à Zacatecas, Fresnillo et Sombrerete. Dans ce cadre précis, je m'intéresse aux « plèbes urbaines », groupe hétérogène dans lequel se retrouvent les castas mais aussi la foule des Indiens ladinos et des Espagnols déclassés qui adoptent des comportements similaires ou qui s'accrochent désespérément à leur « hispanité ». Cette définition mène en premier lieu à l'analyse de la stratification sociale d'un point de vue socio-économique. Toutefois, le comportement de crispation des « petits-blancs » conduit à ne pas évacuer totalement la prégnance d'une stratification socio-raciale dans les mentalités et les représentations. Une telle approche induit non seulement un questionnement sur la constitution de la société coloniale mais introduit aussi la notion du discours sur autrui, autant de problèmes qu'il faut résoudre en confrontant la réalité coloniale, le vécu des « plèbes urbaines » et le discours dont elles font l'objet. C'est donc tout un jeu de va-et-vient entre ces pôles qui doit révéler une société infiniment complexe et mouvante dans laquelle stratifications concrète et mentale se combinent et produisent une véritable mosaïque sociale.
Fichier principal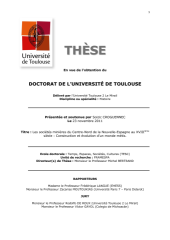 Croguennec_Soizic.pdf (10.97 Mo)
Télécharger le fichier
Origin : Version validated by the jury (STAR)