Researches on Oriental Cults in Athens from the fifth century B.C. to the fourth century A.D. : Religions in contact in the city of Athens
Recherches sur les cultes orientaux à Athènes, du Ve siècle avant J.-C. au IVe siècle après J.-C.
The reputation of "philoxenia" enjoyed by Athens since Antiquity raises the question of the real capacity of welcome and integration of the city towards foreigners, their culture and their religion. It leads to study the differente ways of introducing and receiving a set of worship, gathered under the generic and convenient word - although today much discussed - of "Oriental cuits" : in this study, the "Oriental cuits" are defined by their geographical meaning, as all the religions coming from the Eastern Mediterranean (Egypt, Anatolia, Syria and Phoenicia), including Christianity and Judaism. Leaning on an extensive and varied documentation - and especially a large epigraphie corpus - this paper aims to point out the means of spreading of these cuits and the circumstances in which they settle in the city of Albens. A chronological approach emphasizes the existence of local dynamics, which explains the unequal popularity experienced by the different Oriental cults with Athenians : while sorne of them are criticized and rejected, the cults of Cybele and Isis achieved a great success in Attica. Such a success requires necessarily changes and modifications to allow these new cults to adapt themselves to a different audience and to a new framework of reception : after their arrival, the new cults interact with the local religions background and are affected - to varying degrees - by a phenomenon of hellenization, facilitated by the process of interpretario. Thus, in the city, the Oriental deities have some universal features - that are found throughout the Mediterranean world in the imperial period - , but the contacts and the interactions with the local gods - especially with Demeter, the great Eleusinian goddess - have also led to the emergence of local characteristics, specifie to the Athenian context.
La réputation de philoxénie dont jouit Athènes dès l'Antiquité pose la question de la réelle capacité d'accueil et d'intégration de la cité à l'égard des étrangers, de leur culture et de leur religion. Elle conduit à étudier les modalités d'introduction et de réception d'un ensemble de cultes, réunis sous le qualificatif générique et commode - bien qu'aujourd'hui très discuté- de «cultes orientaux» : dans cette étude, les "cultes orientaux" sont définis au sens géographique du terme, comme l'ensemble des cultes provenant de l'Est du bassin méditerranéen (Egypte, Anatolie, Syrie et Phénicie), y compris le christianisme et le judaïsme. S'appuyant sur une documentation abondante et variée - et notamment sur un corpus épigraphique conséquent - , ce travail vise à mettre en évidence les vecteurs de diffusion de ces cultes et les circonstances dans lesquelles ils s'implantent dans la cité athénienne. Une approche chronologique souligne l'existence de dynamiques locales, qui expliquent l'inégale popularité rencontrée par les cultes orientaux auprès des Athéniens : alors que certains sont critiqués et rejetés, les cultes de Cybèle et Isis remportent un grand succès en Attique. Une telle réussite suppose nécessairement des transformations, des modifications, pour permettre aux cultes de s'adapter à un public différent, à un nouveau cadre de réception: après leur arrivée, les nouveaux cultes entrent en interaction avec le milieu religieux local et subissent- à des degrés variables - un phénomène d'hellénisation, facilité par le processus de l' interprétation. Dans la cité, les divinités orientales présentent ainsi certaines caractéristiques universelles, que l'on retrouve un peu partout dans le monde méditerranéen à l'époque impériale, mais les contacts et les interactions avec les divinités locales- et notamment avec Déméter, la grande déesse d'Eleusis- ont aussi conduit à l'émergence de spécificités locales, particulière au contexte athénien.
Fichier principal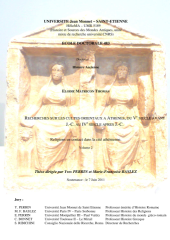 Volume_-_2.pdf (51.84 Mo)
Télécharger le fichier
VOL_-_1_-_remaniA_.pdf (3.64 Mo)
Télécharger le fichier
Origin : Version validated by the jury (STAR)