Collaborative Construction of Telecommunications Services. An Enterprise Architecture and Model Driven Engineering Method
In the context of world economies transitioning to services, telecommunications services are the primary means of communication between different economic entities and are therefore essential. The focus on the end consumer, the convergence with the Internet, the separation between the software and the hardware implementing a service, and the telecommunications market deregulation have led to a revolution and a new era in the telecommunications industry. To meet these challenges, former national telecommunications providers have to reduce the construction time, from months to days, while affecting non-negatively other parameters (e.g., cost, quality of service, quality of experience) of new telecommunications services. To tackle this broad theme, we propose a telecommunications service construction process, the software tools that are to be used in this process and a tool building process to build them. The telecommunications service construction process reflects current practices in the telecommunications industry. As such, it should be (easily) accepted by practitioners. The software tools (i.e., Domain Specific Modeling Languages designed as profiles of an Enterprise Architecture Modeling Language, graphical editors, code generators, Off the Shelf network simulators, a collaboration Design Rationale Domain Specific Modeling Language) help telecommunications providers face the challenges. The tool building process relies on models and provides a high automation degree, hence software tools can be build more rapidly. We illustrate the telecommunications service construction process and the tools using a multimedia conferencing service. Our proposals contribute to reducing the construction time of new telecommunications services, while providing the possibility of improved quality of service and increased involvement of the consumer. Faster provisioning of new telecommunications services, that better answer the consumers¿ needs, will increase the rate of development of new economic services in general, and will ultimately have a positive impact on world economic development.
Dans le contexte de la transition des économies mondiales vers les approches orientées services, les services télécoms sont aujourd¿hui essentiels car ils constituent le principal médium de communication entre les différentes entités économiques. Les accents de plus en plus mis sur le consommateur final, la convergence avec l'Internet, la séparation entre le logiciel et le matériel permettant de réaliser un service, et la déréglementation du marché des télécommunications ont ouvert une nouvelle ère dans l'industrie des télécommunications. Dans ce domaine, pour relever ces différents défis, les fournisseurs télécoms historiques, auparavant plutôt nationaux, doivent réduire le temps de construction de leurs nouveaux services, de plusieurs mois à quelques jours, tout en affectant le moins possible d'autres paramètres (par exemple le coût, la qualité de service ou encore la qualité de l'expérience). Pour s'attaquer à ce vaste thème, nous proposons dans cette thèse un processus de construction de services télécoms, incluant les outils logiciels à utiliser dans ce processus et définissons un processus de construction de tels outils. D¿une part, le processus de construction de services télécoms résultant reflète les pratiques actuelles en place dans l'industrie des télécommunications. En tant que tel, il devrait être (facilement) accepté par les praticiens. D¿autre part, les outils logiciels proposés (par exemple des langages de modélisation spécifiques au domaine conçus comme des profils d'un langage de modélisation d'architecture d'entreprise, des éditeurs graphiques, des générateurs de code, des simulateurs réseaux " sur étagère ", un langage de modélisation spécifique au domaine pour supporter la collaboration lors des choix de conception) aident les fournisseurs de services télécoms à faire face aux défis précédents. Par ailleurs, le processus de construction d'outils s'appuie sur des modèles et fournit ainsi un degré d'automatisation élevé, et sein duquel des outils logiciels peuvent être construits plus rapidement. Pour illustrer nos résultats, nous utilisons un service de téléconférence multimédia clarifiant le processus de construction de services télécoms et les outils associés. Au final, nos propositions et résultats contribuent à réduire le temps de construction des futurs services télécoms, tout en offrant la possibilité d'avoir une qualité de service améliorée et une implication accrue du consommateur final. Une fourniture plus rapide de nouveaux services télécoms, qui répondent mieux aux besoins des consommateurs, augmentera le taux de développement de nouveaux services économiques en général, favorisera la réactivité par rapport au marché, et permettra potentiellement d¿avoir un impact positif sur le développement économique mondial.
Fichier principal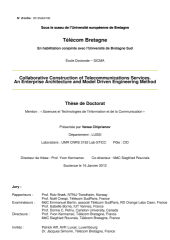 2012telb0191_Chiprianov_Vanea.pdf (6.73 Mo)
Télécharger le fichier
Origin : Files produced by the author(s)