Discourse and utterance in didactics : discourse analysis and semantic analysis of teachers and didacticians talks
Le dire et le dit de discours d'apprentissage : approches didactiques et argumentatives de "signes-discours"
Teachers and didacticians talks (oral or written) are analysed from two points of view: both an didactic and a linguistic one. In the first instance, the methodology covers the discourse analysis of the enunciative forms in relation with the locutors social context of enunciation. In the second one, the analysis of linguistic forms (anaphora and definitional sentences) aims at showing an typology of the speech acts of these didactic discourses
Les travaux présentés dans ces lignes procèdent d'une posture double. Celle, d'une part, d'un enseignant et formateur d'enseignant qui se pose des questions sur l'acte d'apprentissage d'adultes et notamment d'enseignant de langue, et qui fait du discours sur l'apprentissage une partie constitutive de cet acte d'apprentissage. Pour les futurs enseignants en formation, apprendre à enseigner, c'est aussi dire sa pratique d'enseignant. Celle, d'autre part, de linguiste qui s'interroge sur l'efficace de la production de discours sur l'apprentissage, c'est-à-dire sur la nature des mécanismes discursifs accompagnant la mise en discours du processus d'apprentissage chez des adultes en formation. Ce travail est en outre une argumentation adressée à des didacticiens et linguistes-didacticiens. Cette argumentation vise à rendre plus sensible le lien existant entre le fait de dire une pratique sociale et le dit sur cette pratique sociale ; ce dit étant saisi, dans les lignes qui vont suivre, dans un premier temps, dans sa " transparence " vis-à-vis de la pratique dite, dans un second temps, dans son " opacité " linguistique. Dans sa " transparence ", le dit sur l'apprentissage par les acteurs eux-même sera pris comme un canal, donnant accès au monde dont il parle, celui de la pratique ; dans son " opacité ", le dit sera considéré comme la marque linguistique d'un acte de dire, et seuls ses caractères énonciatifs et sémantiques seront pris en considération.
Fichier principal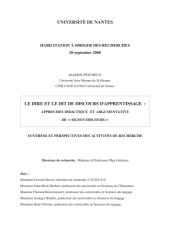 Habilitation_Le_Dire_et_le_Dit_discours_didactiques.pdf (2.37 Mo)
Télécharger le fichier