RoSe: A framework for the design and execution of heterogeneous dynamic distributed applications.
RoSe : Un framework pour la conception et l'exécution d'applications distribuées dynamiques et hétérogènes.
Adaptation has now become a major challenge in Software Engineering. Engineers are indeed regularly confronted with requests for changes that can take many forms : updates, new versions, new features need etc. This trend is enhanced by the emergence of new areas such as ubiquitous computing or cloud computing that require dynamic changes in rapidly constantly evolving environments. For instance, in these areas, resources are often elastic, volatile and heterogeneous. This thesis focuses especially in the design and execution of distributed applications composed of heterogeneous entities which need to be adapted at runtime. Our approach is based on service-oriented component models and on the SOA and REST architectural styles. We propose a framework, named RoSe, which enables the import of remote resources in a service-oriented component framework and the export of local services. RoSe allows developers and administrators to manage the distribution of their application in a totally independent and dynamic way thanks to a configuration language and a fluent API. The framework itself is modular, flexible and supports the addition and removal of components during execution. The implementation of RoSe is hosted by OW2 in the Chameleon project and is now used in several industrial and academic projects.
L'adaptation est aujourd'hui devenue un enjeu majeur en Génie Logiciel. Les ingénieurs sont en effet régulièrement confrontés à des demandes d'évolution qui peuvent prendre de nombreuses formes : mises à jour, nouvelles versions, besoins en nouvelles fonctionnalités, etc. Cette tendance est accrue par l'émergence de nouveaux domaines tels que l'informatique ubiquitaire ou le cloud computing qui exigent des changements dynamiques dans des environnements en constante évolution. Ainsi, dans ces domaines, les ressources sont souvent élastiques, volatiles et hétérogènes. Cette thèse s'intéresse en particulier à la conception et à l'exécution d'applications distribuées composées d'entités hétérogènes et qui nécessitent d'être adaptées durant l'exécution. Notre approche s'appuie sur les modèles à composant orientés service et sur les styles d'architectures SOA et REST. Nous proposons un framework, nommé RoSe, qui permet l'import de ressources distantes dans un framework à composant orienté service et l'export de service locaux. RoSe permet aux développeurs et aux administrateurs de gérer la distribution des applications de manière totalement indépendante et dynamique grâce à un langage de configuration et d'une API dite fluent. Le framework lui-même est modulaire et flexible et supporte l'ajout et le retrait de composants durant l'exécution. L'implantation de RoSe est hébergée au sein du projet OW2 Chameleon et est aujourd'hui utilisée dans plusieurs projets industriels et académiques.
Fichier principal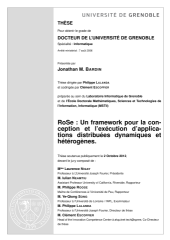 bardin_these.pdf (3.94 Mo)
Télécharger le fichier
bardin_slides.pdf (2.7 Mo)
Télécharger le fichier