'Solidarity-based finance' : a system of funding partnerships
La finance solidaire : un système de relations de financement.
'Solidarity-based finance' is characterized by a system of funding partnerships between economical operators : a trust-based relation emerging from social interactions, a stewardship enabling convergent anticipations, and a financial partnership. It operates in socio-economic institutional mutations which affect the supply and demand of funding. It offers new opportunities to productive operators excluded by financial regulation transformations. Therefore, peripheral financial activities required to sustain the dominant financial system are taken into consideration. The 'solidarity-based finance' is implemented by various organizations sharing specific characteristics. This unique concept is based upon territorialized solidarity-based funding agreements that are defined by information acquiring mechanisms (which are individualized but nonetheless normalized); collective commitments and association of various stakeholders (civil society, cooperative banks, local authorities, corporations). The diversity of resources and their interactions compel 'solidarity-based finance' to anchor its role in a mediation between several policies, with more or less solid ground rules. Because of this collaborative nature, 'solidarity-based finance' organizations operate in a non-competitive environment. However, they also offer means of funding for the reinstatement of part of local economy. It so contributes to the mutations of the wider financial system while promoting innovative means of funding.
La finance solidaire se caractérise par un système de relations de financement entre des agents économiques : une relation de confiance découlant d'espaces de socialisation, une relation d'accompagnement facilitant la construction d'anticipations convergentes, et une relation financière stricto sensu. Elle s'inscrit dans les mutations socioéconomiques institutionnelles qui affectent l'offre et la demande de financement. Elle construit de nouvelles réponses à destination des agents productifs exclus du fait des transformations de la régulation financière, prenant ainsi en charge des espaces de financement périphériques nécessaire à la durabilité du système financier dominant. La finance solidaire est mise en œuvre par des organisations diversifiées partageant des caractéristiques particulières. Elle est l'expression d'une convention de financement solidaire territorialisée qui repose sur des modalités d'acquisition de l'information à la fois personnalisées et normalisées, sur des garanties collectives et sur l'association de différentes parties prenantes (associations, banques coopératives et lucratives, entreprises, collectivités territoriales). La diversité et l'articulation de ressources de nature différente engagent la finance solidaire à ancrer son action dans un compromis entre plusieurs logiques d'actions, aux fondements plus ou moins stables. Du fait de cette nature partenariale, les organisations de finance solidaire évoluent dans un environnement non concurrentiel qui assure néanmoins des moyens de financement pour la re-dynamisation d'une partie des activités économiques de proximité. Elle contribue ainsi à l'adaptation du système financier tout en proposant de diffuser des règles de financement innovantes.
Fichier principal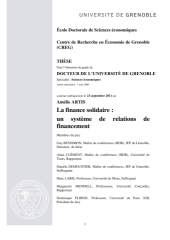 33279_ARTIS_2011_archivage.pdf (2.88 Mo)
Télécharger le fichier
Origin : Version validated by the jury (STAR)