Archaeological approach to the variability of individual and technical behavior. The example of some Magdalenian flint knappers to Pincevent .
Approche archéologique de la variabilité des comportements individuels. L'exemple de quelques tailleurs magdaléniens à Pincevent.
Sylvie Ploux, the author of this innovative PhD, died in 1999 and couldn't see through its publication. Defended in 1988, her thesis is the first theoretical and methodological study on the nature of the skills in prehistoric archaeology. Whereas many researchers currently studying the understanding of lithic assemblages are interested in the variability of the skills, the posting online of this academic work is meant to restore a precursor of this approach to her rightful place. The reading thus made possible will allow everybody to assess the pertinence of a research that still remains amongst the most accomplished on the variability of skills. Setting out the principle that archaeological approaches must be able to take into account the varying identities of the individuals behind the diverse manipulations still observable, this thesis first specifies the principles of such an approach, then considers the nature and interest of its informative potential, supported by an archaeological case study that places the flint knapping at the heart of the work: Unit 27-M89 of the Magdalenian settlement of Level IV20 at Pincevent (77 - Seine-et-Marne). In this occupation unit, the knapping activity serves the daily life of the reindeers hunters that came in autumn to met the migrating herd. The methodology set up by Sylvie Ploux helped bring back to life some of the individuals that were part of the social unit and knapped the flint, from their production. We'll meet the experienced knapper shaping their hunting weapons; the skilled knappers, maybe male just as well as female, supplying tools for the household; the learning adolescent about to be given a lesson; and the young child still in the imitation stage. We wish to thank the parents of Sylvie Ploux for making her work available to the entire community. The text presented here is a digitization of the original PhD.
Disparue en 1999, Sylvie Ploux, auteur de cette thèse novatrice, n'a pu en mener à bien la publication. Alors qu'aujourd'hui, nombre de chercheurs travaillant sur la compréhension des ensembles lithiques s'intéressent à la variabilité des savoir-faire, la mise en ligne de ce travail universitaire veut redonner toute sa place à l'un des précurseurs de cette approche. La lecture de ce travail permettra à chacun de mesurer la pertinence d'une recherche qui reste, encore aujourd'hui, l'une des plus aboutis sur le thème de la variabilité des compétences. Posant comme principe que les approches archéologiques doivent pouvoir prendre en compte l'identité variable des individus à l'origine des diverses manipulations encore observables, cette thèse précise les principes d'une telle approche, puis considère la nature et l'intérêt de son potentiel informatif, avec le support d'une étude de cas archéologique qui met la taille de la pierre au cœur de la réflexion. La première partie s'attache à élaborer une méthode permettant d'identifier un individu à partir de sa production, et, en corollaire, de différencier la production de plusieurs individus. Puis, l'auteur cherche à définir le contexte spatio-temporel et social dans lesquels se développent les comportements techniques individuels et collectifs mis en évidence. C'est d'abord la question de l'identité des tailleurs qui est abordée, à travers leur capacité à arriver à un niveau d'expertise plus ou moins performant. Cela conduit à poser la question des modalités d'apprentissage. L'auteur s'interroge alors sur la gestion des savoir-faire et évoque un statut du travail de la pierre à travers la manière dont les tailleurs s'acquittent de leur tâche. Les règles qui régissent cette activité renseignent pour partie sur l'organisation de l'espace de travail, mais aussi sur l'organisation socio-économique des ressources naturelles. Enfin, en observant les auteurs et les bénéficiaires de cette production, on peut aborder certains aspects de la gestion des produits de consommation. Soutenue en 1988, cette thèse est, en préhistoire, la première réflexion théorique et méthodologique sur la nature des savoir-faire et toutes leurs composantes. La rigueur de l'analyse trouve son champs d'application dans l'étude de l'unité 27-M89 du campement magdalénien du niveau IV20 de Pincevent (77-Seine-et-Marne). Dans cette unité de résidence, l'activité de taille sert la vie quotidienne de chasseurs de rennes venus à l'automne au moment du passage du troupeau migrants. L'application de la méthodologie mise en place par Sylvie Ploux a permis de donner vie, à partir de leur production, à quelques uns des individus qui composent la cellule sociale, bien délimitée dans l'espace et le temps. On rencontrera le tailleur expérimenté qui fabrique ses armes de chasse, les tailleurs compétents qui alimentent la maisonnée en supports lithiques, peut-être tout autant masculin que féminin, l'adolescent en phase d'apprentissage qui va recevoir une leçon, et le jeune enfant qui n'aurait pas dépasser la phase de l'imitation. Et l'on s'intéressera aussi aux liens que chacun entretient avec ses voisins, en fonction d'un statut identifié par ses performances. Nous remercions les parents de Sylvie Ploux d'avoir autorisé la mise à disposition pour l'ensemble de la communauté de ce travail. Le texte présenté ici est une numérisation de la thèse originale.
Fichier principal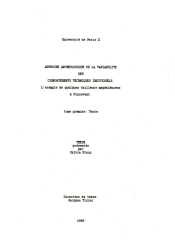 Ploux_these_tome1.pdf (89.47 Mo)
Télécharger le fichier
ThA_seS.Ploux_Tome2.pdf (34.32 Mo)
Télécharger le fichier