The reform of the Cameroonian prison system : between colonial inheritance and cultural traditions
La réforme du système pénitentiaire camerounais : entre héritage colonial et traditions culturelles.
Cameroon is a mosaic of tribes which become muddled or entangled, between others, by the game of alliances being translated by the concern of to "live together". With regard to the societal structuring which particularizes the Cameroonian populations, the social cohesion had constituted and constitutes even nowadays, the best way to insure their security. It is for it that, in their traditional cultures; the Cameroonians had considered that the transaction erases the breach more than the punishment. So, when the social links were weakened by the effects of an antisocial act or an antisocial behavior (breach, offense), all the mechanisms and the methods of repression had, again, to have for purpose the instauration of the social cohesion. During the colonization, the colonial administrators had set up another system of penalty which privileged rather the exemplary correction, imposing to the Cameroonians of give up their idea and their methods of repression and the punishment. Independent Cameroon inherits this colonial method of punishment. The dysfunctions which embody and undermine the current Cameroonian prison institution are only the reflection or the resultant of its impossible adaptability in the Cameroonian sociocultural context. It would be thus convenient, otherwise essential, of to move the problem of the reform of the Cameroonian prison system on a ground other one than that of the simple improvement of the conditions of detention in Cameroon. It is obvious that this aspect should not be neglected. Nevertheless, the most urgent would be to look how the institution of prison can be an instrument of the instauration of the social cohesion, the guarantor of the security of the Cameroonians. On this angle of approach of reflection on the reform of the Cameroonian prison system, several parameters come into play grouped in two axes : that of the redefining of the notion of security by taking into account all the outlines of to live together, and that of the reorganization of a legislative framework reference, and of a pluralist judicial reference framework necessary at the smooth running of the Cameroonian prison institution.
Le Cameroun est une mosaïque de tribus qui s'enchevêtrent par, entre autres, le jeu d'alliances se concrétisant par le souci du "vivre-ensemble". Au regard de la structuration sociétale qui particularise les populations camerounaises, la cohésion sociale constituait et constitue encore de nos jours, le meilleur moyen d'assurer leur sécurité. C'est ainsi que, dans leurs cultures traditionnelles, les Camerounais estimaient que la transaction efface l'infraction plus que le châtiment. Et lorsque les liens sociaux étaient fragilisés par un acte ou un comportement asocial (infraction, délit,…), tous les mécanismes et méthodes de répression devaient avoir pour finalité la réinstauration de la cohésion sociale. Pendant la colonisation, les administrateurs coloniaux avaient mis en place un autre système de sanction qui privilégiait plutôt la rétribution, imposant ainsi aux Camerounais la rupture avec leur conception et leurs méthodes de répression et de la peine. Le Cameroun indépendant hérite cette méthode coloniale de sanction. Les dysfonctionnements qui incarnent et minent l'actuelle institution carcérale camerounaise ne sont que le reflet ou la résultante de son inadaptabilité au contexte socio-culturel camerounais. Il serait donc opportun, sinon primordial, de déplacer la problématique de la réforme du système pénitentiaire camerounais sur un terrain autre que celui de la simple amélioration des conditions de détention au Cameroun. Il est évident que cet aspect ne devrait pas être négligé. Néanmoins, le plus urgent serait de chercher comment faire en sorte que l'institution pénitentiaire soit un instrument de la réinstauration de la cohésion sociale, garante de la sécurité des Camerounais ? Sur cet angle d'approche de réflexion sur la réforme du système pénitentiaire camerounais, plusieurs paramètres entrent en jeu, regroupés en deux axes : celui de la redéfinition de la notion de sécurité en prenant en compte tous les contours du vivre-ensemble au Cameroun ; celui du réaménagement d'un cadre de référence législatif et d'un cadre de référence judiciaire pluraliste, nécessaires au bon fonctionnement de l'institution pénitentiaire camerounaise.
Fichier principal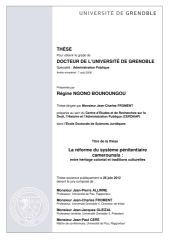 31494_NGONO_-_BOUNOUNGOU_2012_archivage.pdf (8.98 Mo)
Télécharger le fichier
Origin : Version validated by the jury (STAR)