New concept of oversea video transmission for enchancing intership-link data rate and quality
Nouveaux concepts de transmission vidéo en milieu marin pour améliorer le débit et la qualité des liaisons inter bateaux.
Current surface-ship communication systems are not able to maintain point-to-point high data rate links, up to 10 Mbits/s, within a large range (over 10 NM). However, such specification is required if a real-time video transmission from a small boat to its carrier is considered. As a result, this new requirement should be analyzed by considering the constraints induced by the marine environment and by the system platform integration in the light of new technologies. In the first part, an analysis of the characteristics that distinguish a real-time video transmission from a standard high data-rate link is proposed. Then, different propagation models are used to determine the radio channel properties in the marine environment. This analysis is complemented by a qualitative study of phenomena induced by the sea-state degradation. The third part begins with a transmission channel study at long range which demonstrates the necessity of using antennas with directive properties. The development of a channel model including the attitude of platforms as well as the antenna radiating parameters is detailed. Finally, the research of radiating structures with directive properties and adapted to each platform is discussed in the last section. The proposed solution for the small boat is developed thereafter. Based on a S-band circular array, its design provides a maximum gain greater than 10 dBi while remaining compatible with onboard integration.
Les moyens de communications actuels des bâtiments de surface ne permettent pas d'entretenir des liaisons point-à-point avec des débits supérieurs à 10 Mbits/s et sur de longues portées (>10 MN). Or, un tel besoin est rencontré dans le cadre d'un projet de transmission vidéo en temps réel depuis une embarcation légère vers son navire support. De plus, ce nouveau besoin doit être analysé en considérant les contraintes inhérentes au milieu marin, à l'intégration des systèmes aux plateformes et à la lumière des nouvelles technologies. Dans une première partie, une analyse des caractéristiques qui distinguent une liaison vidéo en temps réel d'une liaison à haut débit classique est proposée. Ensuite, différents modèles de propagation sont mis en oeuvre pour déterminer les propriétés du canal radio en milieu marin. Cette analyse est complétée par une étude qualitative des phénomènes induits par la dégradation de l'état de mer. La troisième partie débute par une étude du canal de transmission à longue portée qui démontre la nécessité d'utiliser des antennes directives. Le développement d'un modèle de canal intégrant l'attitude des plateformes et les données de rayonnement des antennes est donc détaillé. Enfin, la recherche de structures rayonnantes directives adaptées aux plateformes est abordée dans la dernière partie. La solution proposée pour l'embarcation légère est développée par la suite. Basée sur un réseau circulaire fonctionnant en bande S, son architecture permet d'obtenir un gain maximal supérieur à 10 dBi tout en facilitant son intégration à bord.
Fichier principal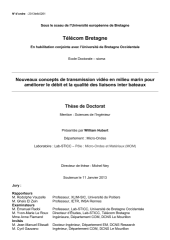 2013telb0231_Hubert_William.pdf (18.62 Mo)
Télécharger le fichier
Origin : Files produced by the author(s)