An occitan scripta in the kingdom of Navarre in the Middle Ages (XIII-XVI siècles) : formation and functioning
Une scripta occitane dans la Navarre médiévale (XIII-XIV siècles) : formation et fonctionnement
In the districts of peninsular Navarre during the XIIIth and XIVth centuries appeared an Occitan scripta whose use was linked to the settlement of Francos, a population with special privileges and coming from the north of the Pyrenees. The development of this language outside Occitan territory gave it characteristics immediately recognizable, and although it keeps features connected to Languedoc, it shares particularities with other varieties of the diasystem, Catalan included, as well as it borrows some from Navarro-Romance in contact with which it has evolved.
En los burgos de la Navarra peninsular entre los siglos XIII y XIV apareció una scripta jurirídica occitana cuyo uso se relacionó con el establecimiento de los Francos, una población que gozaba de privilegios y que procedía originalmente del norte de los Pirineos. El desarrollo de este idioma fuera de un territorio occitano le dio características que lo hacen inmediatamente reconocible y aunque conserve características relacionadas al lenguadociano, comparte también rasgos con otras variedades del diasistema, catalán incluso, y con el romance navarro al contacto del cual evolucionó.
Nafarroa Garaian, XIII. eta XIV. mendeetan,okzitandar idatzi juridiko bat agertu da, Frankoen instalazioari lotua dena, pribilegioak dituen Pirineo iparraldetik etorri populua. Okzitanofono eremu kanpotik garatu den hizkuntza hunek ondorioz ezaugarri bereziak ditu eta lengadoziarratik heldu zaizkionak oraindik atxiki baditu, diasistemiko beste taldeekin pundu amankomunak ere baditu, zabalduz katalanari baita ere nafartar-erromanoarekin, azken hunekin ukan kontaktuekin aldaketak ezagutuz.
Dans les bourgs de la Navarre péninsulaire entre le XIIIe et XIVe siècles est apparue une scripta juridique occitane dont l'usage était lié à l'établissement des Francos, population bénéficiant de privilèges particuliers et provenant originellement du nord des Pyrénées. Le développement de cette langue en dehors d'un territoire occitanophone lui a conféré des caractéristiques qui la rendent d'emblée reconnaissable; et si elle conserve des traits la rattachant au languedocien, elle partage des points communs avec d'autres variétés du diasystème, étendu au catalan, ainsi qu'avec le navarro-roman au contact duquel elle a évolué.
En los borgs de la Navarra peninsular entre los sègles XIII e XIV apareshó ua scripta juriridica occitana d'un usatge ligat a l'establiment deus Francos, ua poblacion qui gaudiva de privilètgis e qui vienè deu nòrd deus Pirenèus. Lo desvolopament d'aquera lenga en dehòra d'un territòri occitan que'u dé caracteristicas qui la hèn reconéisher de tira; per aquò, se consèrva trèits qui'u hè tanhent deu lengadocian que desparteish tanben punts comuns dab d'autas varietats deu diasistèma, catalan comprés, e dab lo navarroromanic au contacte deu quau evoluí.
Fichier principal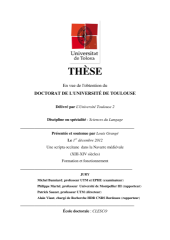 Grange_Louis_These.pdf (3.63 Mo)
Télécharger le fichier

Grange_Louis_1_Annexes.pdf (796.84 Ko)
Télécharger le fichier

Grange_Louis_2_Annexes.pdf (18.7 Mo)
Télécharger le fichier

Grange_Louis_3_Annexes.pdf (1.86 Mo)
Télécharger le fichier

Grange_Louis_4_Annexes.pdf (1.58 Mo)
Télécharger le fichier
Origin : Version validated by the jury (STAR)