Characterization of spaces and conservation practices of family production systems in Colombia : which contributions to landscape conservation?
Caracterización de espacios y prácticas de conservación en sistemas de producción familiar rural en Colombia : contribuciones para la conservación de paisajes ?
Caractérisation des espaces et pratiques de conservation dans les systèmes de production familiale en Colombie : quelles contributions pour la conservation des paysages?
The research aims to establish how the modes of management of natural and social resources of family farmers whose holdings are generally small, have contributed to the construction of sustainable production systems and landscapes.Which are the strategies developed these producers to guarantee the production and reproduction conditions of their farms, their families, and conservation of natural resources? And, is it possible to discover in these strategies, elements for the design of sustainable systems? Our study was carried out in a tropical zone of the Northern Andes, located in Colombia in the municipalities of Riosucio, Supia, Department of Caldas. During the crisis of the late 1980s and early 1990s coffee producers reacted in various ways. A particularly interesting reaction, we looked at a depth is the proposal of the Association of indigenous and peasant producers of Riosucio, Supia ASPROINCA: re-arrangement of productive systems, pursuit of sustainability through diversification of strategies supported in an agro ecological approach , integrated management of production systems, and the strengthening of human and social capitals. Sustainability building of production systems and landscapes implies a multiplicity of relations between social and ecological processes at different temporal and spatial scales. Beyond farm units, Asproinca proposal expands to the watershed and regional landscape, this implies the coexistence with other forms of production, the search for agreements for the management of common pool resources, in particular water, and the implementation of conservation practices at those levels.
La investigación busca establecer si las formas de gestión de los recursos naturales y sociales de los pequeños productores familiares, han podido contribuir a la construcción de sistemas de producción y de paisajes sostenibles. ¿Qué estrategias son las que desarrollan estos productores para garantizar las condiciones de producción de sus fincas, la reproducción de sus familias y la conservación de los recursos naturales empleados? ¿Es posible descubrir en estas estrategias pistas para el diseño de sistemas sostenibles? Nuestro estudio se desarrolló en la zona tropical de los Andes del Norte situada en territorio Colombiano, en los municipios de Riosucio y Supía en el Departamento de Caldas. Durante la crisis de los mercados cafeteros (de los años 1990), los productores van a reaccionar de maneras diversas. Una reacción particularmente interesante, que analizamos a profundidad, es la propuesta de la Asociación de Productores Indígenas y Campesions de Riosucio y Supía (ASPROINCA): que involucra la recomposición de sistemas productivos, la búsqueda de la sostenibilidad a partir de la diversificación de estrategias apoyadas en un enfoque agroecológico y una gestión integrada de los sistemas productivos, así como del fortalecimiento del capital social y humano. Más allá de las unidades de producción familiares, la propuesta se amplía al espacio de la micro cuenca y al paisaje regional, lo cual implica la coexistencia con otras formas de producción, el establecimiento de acuerdos sobre la gestión de recursos de uso común, en particular del agua, y la puesta en marcha de prácticas de conservación para la conservación de esto recurso.
La recherche vise à établir si les modes de gestion des ressources naturelles et sociales des producteurs familiaux, dont les exploitations sont majoritairement de petite taille, ont pu contribuer à la construction de systèmes de production et de paysages durables. Quelles stratégies ces paysans mettent-ils en œuvre pour garantir les conditions de production de leurs fermes, de reproduction de leurs familles, et de conservation des ressources naturelles ? Ensuite, peut-on découvrir dans ces stratégies des pistes pour la conception de systèmes durables ? Notre étude a été menée dans une zone tropicale des Andes du nord située en territoire colombien, sur les communes de Riosucio et Supia, département du Caldas. Lors de la crise du café (années 1990), les producteurs vont réagir de manières diverses. Une réaction particulièrement intéressante, que nous analysons en profondeur, est la proposition de l'Association des producteurs indigènes et paysans de Riosucio et Supia, ASPROINCA : recomposition des systèmes productifs, recherche de la durabilité par une diversification des stratégies fondées sur une approche agro-écologique et une gestion intégrée des systèmes productifs, et renforcement du capital social et humain. Au-delà des unités d'exploitation, la proposition est élargie à l'espace du micro-bassin et au paysage régional, ce qui implique la coexistence avec d'autres formes de production, la conclusion d'accords sur la gestion des ressources d'usage commun, en particulier l'eau, et la mise en œuvre de pratiques partagées pour leur conservation.
Fichier principal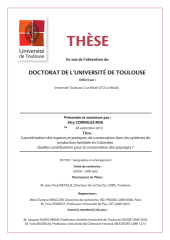 Corrales-Roa_Elcy.pdf (8.7 Mo)
Télécharger le fichier
Corrales-Roa_Elcy_Annexes.pdf (16.76 Mo)
Télécharger le fichier
Origin : Version validated by the jury (STAR)