Using the rule of design for environment (DfE) to design the sustainable products.
Intégration de règles "DfE" (Design for Environment) pour la conception de produits, process et cycles de vie propres
To help designers to consider the environmental issues for their product design project (green concepts and other sustainable and environmental strategies) and to minimize the time spent with this approach, a simplified environmental assessment usable during the preliminary design stage has been developed.The proposed approach aims to integrate the "Design for Environment" rules (DfE rules) early in the product design while proposing a method that translates these rules into DfE indicators (quantitative value).To carry out this work, we had to: firstly build a database of DfE rules, secondly establish a method to choose these rules in the context of the design project objectives, thirdly establish calculation formula for the indicators
Afin d'aider les concepteurs à considérer l'environnement dans leur projet de conception de produit, tout en minimisant le temps consacré à cette démarche, une évaluation environnementale simplifiée utilisable dès la phase de conception préliminaire a été définie. La démarche proposée vise à intégrer les règles « Design for Environment » (DfE) au plus tôt dans la conception des produits, en proposant une méthode d'évaluation qui traduit ces règles DfE en indicateurs. Pour mener à bien ce travail de thèse, il nous a fallu construire une base des données des Règles DfE, établir une méthode de choix des règles en fonctions du contexte du projet de conception, établir les règles de calcul des indicateurs liés aux règles DfE et mettre en place des représentations adaptées pour l'interprétation des résultats lors de projets de conception. L'objectif ici est de guider le concepteur au plus tôt vers un bon compromis, par des estimations simples. Cette approche est nécessaire afin d'éviter des modifications significatives à la fin des études détaillées et ainsi de nombreuses boucles essais/erreurs en conception. Une étude de cas permet d'illustrer la démarche proposée.
Fichier principal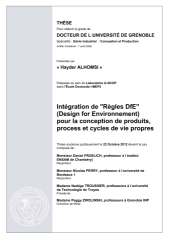 20384_ALHOMSI_2012_archivage.pdf (5.21 Mo)
Télécharger le fichier
Origin : Version validated by the jury (STAR)