Online advertising on traditional news organisations websites. Market construction, operating logics and evolving dynamics.
Publicité en ligne sur les sites de presse issus de l'imprimé. Construction du marché, logiques de fonctionnement et perspectives d'évolution
The online advertising market is a complex, unstable and evolutive one. Our thesis describes and explains the way this market works for online news publishers from traditional news organisations. From a qualitative survey, based on semi-structured interviews with professionals in positions of responsibility in online news organisations and online advertising industry, we analyze the market construction and its operating logic. The latter questions the continuity of the news organisations advertising model online. Our goal is to understand how operates the audience markets valuation online for those traditional news market players. The audience quantification and qualification process are changing and show us conflicting logics between a logic imported from offline media advertising and another one from direct marketing, taking advantage of the interactive nature of online advertising. Three distinct but complementary points structure our work: the evolution of the market relationship between publishers and advertisers and how it is equipped (part 1); the inclusion of the market in a socio-economic context which imposes specific constraints and a tension between alternative modes of advertising product's qualification (part 2); the role played by the appropriation of technological innovations by some players as well as the extent to which this appropriation determine, at least in part, the advertising business dynamics (part 3).
Le marché de la publicité en ligne est un marché complexe, instable et en mutation. Notre thèse décrit et explique le fonctionnement de ce marché pour les sites de presse issus de l'imprimé. A partir d'une enquête qualitative, s'appuyant sur des entretiens semi-directifs auprès de professionnels occupant des postes à responsabilité dans les milieux de la presse et de la publicité sur le web, nous analysons la construction du marché et ses logiques de fonctionnement. Ces dernières interrogent la continuité du modèle publicitaire de la presse sur ce média. Notre objectif est de comprendre la manière dont la valorisation marchande de l'audience y évolue pour les sites issus de la presse imprimée. Les modes de quantification et de qualification de l'audience se transforment et marquent l'affrontement entre une logique issue de la publicité média et une autre relative au marketing direct, tirant parti du caractère interactif de la publicité en ligne. Trois dimensions complémentaires structurent notre travail : l'évolution de la relation marchande entre les éditeurs et les annonceurs et la manière dont elle est outillée (partie 1) ; l'inscription du marché dans un contexte socioéconomique imposant des contraintes spécifiques et une tension autour de modes de qualification alternatifs du produit publicitaire (partie 2) ; le rôle joué par l'appropriation des innovations techniques par certains acteurs ainsi que la mesure dans laquelle cette appropriation détermine, au moins en partie, l'évolution de l'activité publicitaire (partie 3).
Fichier principal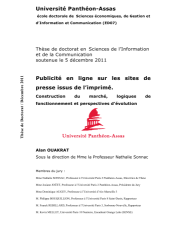 THESE_A._Ouakrat_2011_Publicite_en_ligne_sites_presse_.pdf (4.1 Mo)
Télécharger le fichier