The Minims and the province of Aquitaine under the old regim : a provincial frame for an intellectual commitment ?
Les Minimes et la province d'Aquitaine sous l'Ancien Régime : un cadre provincial pour un engagement intellectuel ?
In 15th century, saint François de Paule is the creator of a very original Order, the austerity of the rule, the fourth wish of quadragesimal life and the religious humility distinguish sharply these newcomers of the traditional regular congregations. For François the reform is essential: he takes the shape of a revival, a return to basics and in the strict observance in the style of other regular of period.The movement is organized in provinces in saint François's death, they constitute the geographical area of the Order par excellence, the regular being independent from dioceses. Established by fifteen convents, the province of Aquitaine is one of the most sprea by the Order, it exceeds so widely the traditional borders of the Southwest.It is thus a question of demonstrating specificity of this Order in France through an innovative geographical area, the province. This context is so ideal to study the Order, his organization, its evolution and its intellectual commitment. Between the first foundation in Aquitaine, in 1503 and the Revolution, which sounds the disappearance of the Order in France, the Minims are confronted with numerous social and intellectual changes. It is a question here of defining the provincial context and to determine the reality of the evolution of a monastic Order towards a scientific Order where figures get loose in 17th century, such Emmanuel Maignan and Charles Plumier.This work answers the misunderstanding of the order of the Minims in France and more exactly in the Southwest where no study was led, either on the Minims, or more generally on the regular.
Au 15ème siècle, saint François de Paule est le créateur d'un Ordre très original, l'austérité de la règle, le quatrième vœu de vie quadragésimale et l'humilité religieuse distinguent nettement ces nouveaux venus des congrégations régulières traditionnelles. Pour le saint Calabrais la réforme est essentielle : elle prend la forme d'un renouveau, un retour aux sources et à la stricte observance à la manière d'autres réguliers de l'époque, versés dans le rigorisme pénitentiel.Le mouvement est organisé en provinces à la mort de saint François de Paule, elles constituent l'aire géographique de l'Ordre par excellence, les réguliers étant indépendants des diocèses. Constituée de quinze couvents, la province d'Aquitaine est l'une des plus étendue de l'Ordre, elle dépasse ainsi largement les frontières traditionnelles du Sud-Ouest. Il s'agit donc de démontrer les spécificités de cet Ordre en France à travers une aire géographique novatrice, la province. Ce cadre est ainsi idéal pour étudier l'Ordre, son organisation, son évolution et son engagement intellectuel. Entre la première fondation en Aquitaine, en 1503 et la Révolution, qui sonne la disparition de l'Ordre en France, les Minimes sont confrontés à de nombreux changements sociaux et intellectuels. Il s'agit ici de définir le cadre provincial et de déterminer la réalité de l'évolution d'un Ordre érémitique vers un Ordre scientifique où des figures se détachent au 17ème siècle, tels Emmanuel Maignan et Charles Plumier.Ce travail répond à la relative méconnaissance de l'Ordre des Minimes en France et plus précisément dans le Sud-Ouest où aucune étude d'ensemble n'a été menée, ni sur les Minimes, ni plus généralement sur les réguliers.
Fichier principal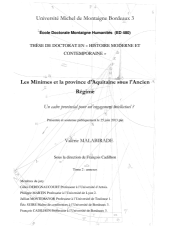 These-Valerie-Malabirade-annexes.pdf (10.16 Mo)
Télécharger le fichier
These-Valerie-Malabirade.pdf (38.24 Mo)
Télécharger le fichier
Origin : Version validated by the jury (STAR)
Origin : Version validated by the jury (STAR)