Vers des moteurs de recherche "intelligents" : un outil de détection automatique de thèmes. Méthode basée sur l'identification automatique des chaînes de référence
This thesis in the field of Natural Language Processing aims at optimizing documents classification in search engines. This work focuses on the development of a tool that automatically detects documents topics (ATDS-fr). Using poor knowledge, the hybrid method combines statistical techniques for topic segmentation and linguistic methods that identify cohesive markers. Among them, reference chains - sequences of referential expressions referring to the same entity (e.g. Paul ... he ... this man) - have been given special attention as they are important topic markers (i.e. they are markers of topic introduction, maintenance and change). Thus, from a study of reference chains extracted from a corpus composed of various textual genres (newspapers, public reports, European laws, editorials and novel) we developed RefGen, an automatic reference chains identification module, which was evaluated according to current coreference metrics.
Cette thèse se situe dans le domaine du Traitement Automatique des Langues et vise à optimiser la classification des documents dans les moteurs de recherche. Les travaux se concentrent sur le développement d'un outil de détection automatique des thèmes des documents (ATDS-fr). Utilisant peu de connaissances, la méthode hybride adoptée allie des techniques statistiques de segmentation thématique à des méthodes linguistiques identifiant des marqueurs de cohésion. Parmi eux, les chaînes de référence - séquence d'expressions référentielles se rapportant à la même entité du discours (e.g. Paul...il...cet homme) - ont fait l'objet d'une attention particulière, car elles constituent un indice textuel important dans la détection des thèmes (i.e. ce sont des marqueurs d'introduction, de maintien et de changement thématique). Ainsi, à partir d'une étude des chaînes de référence menée dans un corpus issu de genres textuels variés (analyses politiques, rapports publics, lois européennes, éditoriaux, roman), nous avons développé un module d'identification automatique des chaînes de référence RefGen qui a été évalué suivant les métriques actuelles de la coréférence.
Fichier principal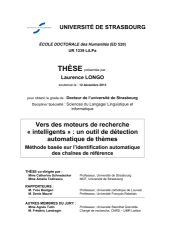 longo_laurence_2013_ED520.pdf (3.16 Mo)
Télécharger le fichier
interface_refgen.pdf (187.71 Ko)
Télécharger le fichier