A journey into the depths of mankind in the interwar years : Louis-Ferdinand Céline's "Voyage au bout de la nuit" and Alfred Döblin's "Babylonische Wanderung"
Un voyage au cœur de l'homme dans l'entre-deux-guerres : "Voyage au bout de la nuit" de Louis-Ferdinand Céline et "Babylonische Wanderung" d'Alfred Döblin
During the interwar years, many intellectuals have travelled to delimit the impact of the crisis that shook the century in the aftermath of the World War I. Celine and Döblin brought an unprecedented and particular questioning on this issue. In "Voyage au bout de la nuit" and "Babylonische Wanderung" both authors used the novel to question what it means to be a human being, from this moment. A Literature crisis has echoed the disenchantment known by the post-war world and both authors translated it through fictional games, through the diverting of travel-related patterns and through liberties taken with the aesthetic conventions of representations of reality. Opening the boundaries of reality by burlesque or fantastic tonalities borrowed from a surreal sphere, Celine and Döblin questioned the flawed nature of the human kind. This work aims at underlining the singularity of the characters' look upon the world and how they explored a reality surpassing during their numerous travels. By doing so, they expressed the experimentation spirit that dominated the thought in the interwar years at different level (political, ideological, medical, scientific etc.), and this, contributed to define their literary style. Facing the wide range of monstrosities revealed both by the experimentation of reality and by the surreal sphere, Celine and Döblin offer a cynical position. Two cynical options, from one author to the other, stand out from their travels and experiences: the antic one and the modern one. This work highlights the literary embodiment of the novel crisis by analysing how is made the experience of going beyond reality, which pioneers significantly the foundations of the crisis of humanism values.
Dans les années d'entre-deux-guerres, de nombreux intellectuels ont voyagé afin de circonscrire l'amplitude de la crise qui secouait le siècle au lendemain de la guerre. Céline et Döblin ont apporté une interrogation particulière et inédite de cette problématique. Les deux auteurs dans "Voyage au bout de la nuit" et "Babylonische Wanderung" ont utilisé le roman pour interroger ce qu'est être un homme, désormais. Une crise de la littérature s'est fait l'écho du désenchantement qu'a connu le monde, et les deux auteurs l'ont traduite par le biais de jeux romanesques, par le détournement de motifs relatifs au voyage, et de libertés prises avec les conventions esthétiques de la représentation du réel. En ouvrant les frontières du réel par l'emprunt de tonalité burlesque ou fantastique à une sphère surréelle, Céline et Döblin ont interrogé la nature imparfaite de l'homme. Ce travail s'efforce de mettre en exergue la singularité du regard des protagonistes sur le monde sondant un dépassement du réel dans leurs nombreux voyages, traduisant l'esprit d'expérimentation au centre de la pensée des années d'entre-deux-guerres au niveau politique, idéologique, médical et scientifique, et a défini leur style. Face au spectre large des monstruosités que révèle l'expérimentation du réel et de la sphère surréelle, Céline et Döblin ont proposé la posture cynique. Deux options cyniques, d'un écrivain à l'autre, celle du cynique antique et celle du cynique moderne, émergent de leurs voyages et de leurs expérimentations. Il ressort de ce travail la mise en évidence de l'incarnation littéraire de la crise du roman par l'analyse de l'expérimentation de cet au-delà du réel prégnant des fondements d'une crise de l'humanisme.
Fichier principal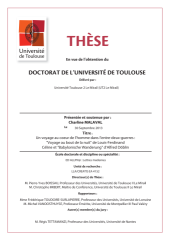 Malaval_Charline.pdf (4.08 Mo)
Télécharger le fichier
Origin : Version validated by the jury (STAR)