Family communication, false self-construction and breast cancer
Communication familiale, construction en faux-self et cancer du sein.
Subject : In the field of clinical psychology and, more particularly, in the field of psychosomatic, this thesis aims is to investigate potential and complex linkages, nonlinear, between a defective family communication, a psychic construction in false self and the occurrence of breast cancer in adulthood. Method : Data were collected from 50 patients with breast cancer. Three semistructured interviews and a Rorschach test complemented by the risk psychosomatic assessment grid simplified of Pr Stora we have used tools.Results : The risk psychosomatic grid helped identify three groups : mild, moderate, severe. We not that if the interview results are eloquent than severe for the group, data from the Rorschach test, in turn, reveal the whole of our population specificity. This specificity is characterized by fragility of the body envelope with problems relating to the physical integrity and impact on the sense of identity and also by socialization difficult or limited. All our subjects presented a personality psychic structure in false self
Objet : Dans le champ de la psychologie clinique et, plus particulièrement, dans le champ de la psychosomatique, cette thèse a pour objectif l'étude de liens potentiels complexes, non linéaires, entre une communication familiale défaillante,une construction psychique en faux-self et la survenue d'un cancer du sein à l'âge adulte. Méthode : Les données utilisées ont été recueillies auprès de 50 patientes atteintes d'un cancer du sein. Trois entretiens semi directifs et un test de Rorschach complétés par la grille simplifiée des risques psychosomatique du Pr Stora nous ont servi d'outils.Résultats : La grille des risques psychosomatiques nous permis d'identifier trois groupes : léger, modéré, sévère. Nous constatons que, si les résultats des entretiens ne sont éloquents que pour le groupe sévère, les données du test de Rorschach, quant à elles, dévoilent pour l'ensemble de notre population une spécificité. Cette spécificité est caractérisée par une fragilité de l'enveloppe corporelle avec problématique d'intégrité corporelle et retentissement sur le sentiment identitaire et , également, par une socialisation difficile, voire limite. La totalité de nos sujets présente une personnalité avec structure psychique en faux-self.
Fichier principal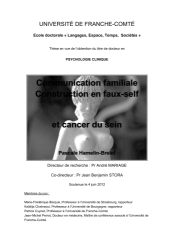 these_A_HAMELINBRELET_Pascale_2012.pdf (6.22 Mo)
Télécharger le fichier
Origin : Version validated by the jury (STAR)