The Spanish refugee women in France (1939-1942) : women between subjection and resistance
Las refugiadas españolas en Francia (1939-1942) : mujeres entre sometimientos y resistencias
Les réfugiées espagnoles en France (1939 - 1942) : des femmes entre assujettissements et résistances
The purpose of this PhD thesis is to give visibility to Spanish refugee women in France from 1939 to 1942 and bring them out of the shadow of their male companions. We thus set out to write a history of Spanish exodus on French territory through the eyes of women, so as to make them come into historical view. The objects of French administrative control, they were subjected to stereotyped social images which influenced the authorities' practices towards them. They were assigned to administrative categories which evolved according to French alien policies, and had to follow rules of conduct and conform to behaviors which were imposed upon them. Most stayed in reception centres and some in internments centres. All were under administrative supervision and grappling with gendered power relations. Returning to Spain, emigrating across the Atlantic, reuniting with other family members or finding employment were the ways out of these coercive spaces. Spanish refugee women resisted the many subjection devices deployed by the French State and came to realize their agency by experimenting with various modes of action. In doing so, and while in exile, they shaped new individual and collective identities which were resolutely political.
El objetivo de esta tesis doctoral es dar visibilidad a las mujeres españolas refugiadas en Francia entre 1939 y 1942. Se trata de proponer una narración en femenino del éxodo en el suelo francés de estas mujeres que se quedaron en la sombra de sus compañeros, para revelarlas en el escenario histórico. Gestionadas por la administración francesa, son tributarias de imágenes sociales estereotipadas que van influenciando las prácticas de las autoridades con respecto a ellas. Asignadas a categorías administrativas que evolucionan según las políticas desarrolladas en contra de los extranjeros en Francia, se les imponen a las mujeres españolas refugiadas modelos de vida que respectar, y comportamientos que adoptar. Bajo tutela administrativa, enfrentadas con unas relaciones de poder cuya dimensión de género aparece, permanecen en centros de alojamiento, y algunas en campos de internamiento. La repatriación a España, la emigración al otro lado del Atlántico, la reagrupación familiar o el empleo condicionan sus salidas de estos espacios coercitivos. Frente a múltiples dispositivos de sometimientos estáticos, las mujeres refugiadas expresan su resistencia, y usan registros de acción muy variados que les permiten tomar consciencia de su "capacidad de actuar". Así, construyen, en situación de exilio, identidades individuales y colectivas originales y eminentemente políticas.
Cette thèse se donne comme objectif de rendre visibles les femmes espagnoles réfugiées en France de 1939 à 1942. Il s'agit de proposer une narration au féminin de l'exode sur le sol français de ces femmes restées dans l'ombre de leurs compagnons, pour les faire advenir sur la scène historique. Prises en charge par l'administration française, elles sont tributaires d'images sociales stéréotypées qui influencent les pratiques des autorités à leur égard. Assignées dans des catégories administratives qui évoluent selon les politiques menées à l'encontre des étrangers sur le sol français, les femmes espagnoles réfugiées se voient imposer des cadres de vie à respecter et des comportements à adopter. Sous tutelle administrative, aux prises avec des rapports de pouvoir qui se révèlent genrés, elles séjournent dans des centres d'hébergement, et pour certaines dans des camps d'internement. Le rapatriement en Espagne, l'émigration outre-Atlantique, le regroupement familial ou bien l'emploi conditionnent leur sortie de ces espaces coercitifs. Face aux multiples dispositifs d'assujettissements étatiques, les femmes espagnoles réfugiées se positionnent en résistance, et expérimentent des registres d'actions variés qui leur permettent de prendre conscience de leur « puissance d'agir ». Ce faisant, elles façonnent, en situation d'exil, des identités individuelles et collectives originales et résolument politiques.
Fichier principal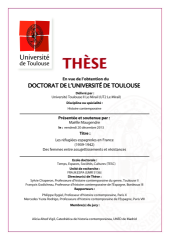 Maugendre_Maelle.pdf (78.72 Mo)
Télécharger le fichier
Origin : Version validated by the jury (STAR)