Epidemiological study of infections causing Pseudomonas aeruginosa strains and their bacteriophages for therapeutic approach.
Étude épidémiologique de souches de Pseudomonas aeruginosa responsables d'infections et de leurs bactériophages pour une approche thérapeutique
The use of viruses of bacteria commonly called bacteriophages could constitute an efficient complement to antibiotics. During my PhD, I have characterized phages infecting the opportunistic pathogen Pseudomonas. aeruginosa, responsible for lung infections in cystic fribrosis patients. Firstly, I investigated the efficiency of Pyophage (a cocktail of phages therapeutic Georgian) on clinical P. aeruginosa strains and recovered six lytic phages from four different genus. The Pyophage appears to be unactive on approximately 15% of clinical strains. Secondly, and using multi-phages resistant strains as enrichment bacteria, 32 phages were isolated from waste water of France and Côte d'Ivoire. All phages are tailed and distributed within ten different genus including six exclusively lytic. I identified bacterial strains which remain insensitive to all phages. I also demonstrated that the CRISPRs-cas system plays no role in the resistance of strains to lytic phages.
L'utilisation de virus de bactéries ou bactériophages pourrait être un complément efficace à l'antibiothérapie. Mon travail a porté sur la caractérisation de bactériophages dirigés contre l'espèce Pseudomonas aeruginosa, pathogène opportuniste responsable d'infections des voies respiratoires des patients atteints de mucoviscidose.J'ai tout d'abord déterminé la sensibilité des souches mucoviscidosiques au Pyophage (un cocktail de phages thérapeutiques Géorgien) et identifié six phages lytiques de quatre genres différents. Environ 15% des souches sont résistantes au Pyophage. Ensuite, en utilisant les souches cliniques multi-résistantes aux phages comme bactérie d'enrichissement, 32 phages ont été obtenus à partir des eaux usées de France et Côte d'Ivoire. Tous les phages analysés sont caudés et distribués au sein de dix genres parmi lesquels six exclusivement lytiques. J'ai identifié des souches bactériennes qui demeurent insensibles à tous les phages. J'ai montré que le système CRISPRs-Cas n'est pas associé à la résistance des souches aux phages lytiques.
Fichier principal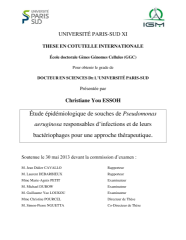 VA2_ESSOH_CHRISTIANE-YOU_30052013.pdf (3.93 Mo)
Télécharger le fichier
Origin : Version validated by the jury (STAR)