Questioning the « impersonal dimension » in French unionism : a local trade union branch (SNUIPP-FSU) as a case study.
Syndicalisme : « l'impersonnel » à l'épreuve. Le cas d'une section départementale du SNUIPP-FSU.
This thesis seeks to explore, from a "transformation-action" in a "non-ordinary" workplace such as a trade union county branch, the specificities of the impersonal dimension experienced in the occupation of trade unionist.The transformation-action took place within a group of activists from a high school teachers' trade union that collectively analyzed their own activity within the union. It was conducted according to the activity clinics consistent methods and methodologies. This transformation action was unusual in the way it was conducted and in that the content was co-produced by activists themselves. Following research and literature related on unionism analyzed as being a working activity as well as occupations in the field of social work, this characteristic became itself an object of research. This was identified as one of the trade unionist occupation's four dimensions, the impersonal dimension.The analysis carried out on "crossed self-confrontation" material showed that this dimension is poorly defined and "not-discussed". We suggest that this "non-discussion" could be explained by existing contradictions within the Union founding principles themselves. The characteristics of the impersonal dimension of the trade unionist occupation also has effects on the other dimensions of the occupation; this has led us to question the use of the word occupation to describe the union activity.The debate is to be continued with a discussion of the conceptualization of the occupation impersonal dimension in the field of clinic of activity. Often described in indistinct terms as it relates either to the prescription, or to the tasks or functions, it is suggested to develop this dimension as being a link between goals and means given by the organization. The work based on the specificities of the impersonal dimension of the trade unionist occupation also clarifies the goal concept : it contains general goals on one hand and goals from the work organization on the other hand.
Cette thèse propose d'explorer, à partir d'une intervention réalisée dans un milieu de travail non ordinaire, celui d'une section départementale d'un syndicat, les spécificités de la dimension impersonnelle du « métier » de syndicaliste.L'intervention s'est déployée selon la perspective méthodologique et méthodique propre à la clinique de l'activité, auprès d'un collectif de militants d'un syndicat des enseignants du premier degré qui ont pris pour objet d'analyse une part de leur activité syndicale. Cette intervention, tant dans son déroulement que dans le contenu des analyses co-produites par les militants, a été particulière. Après un examen de la littérature relative à des travaux qui s'intéressent au syndicalisme analysé comme une activité et à des métiers exercés dans le secteur social, cette particularité s'est précisée et s'est constituée en objet de recherche. Elle concerne l'une des quatre dimensions du « métier » de syndicaliste, la dimension impersonnelle. Les analyses du matériau issu des autoconfrontations croisées ont permis de montrer que cette dimension est floue et « in-discutée ». Nous avons alors avancé l'hypothèse que cette « in-discussion » pourrait s'expliquer par des contradictions qui traverseraient les principes fondateurs du syndicat. Ces particularités de la dimension impersonnelle du « métier » de syndicaliste ont aussi des conséquences sur les autres dimensions du métier ce qui nous a conduit à interroger l'usage du mot « métier » pour évoquer l'activité syndicale. La réflexion se prolonge alors par une discussion de la conceptualisation de la dimension impersonnelle du métier en clinique de l'activité. Alors qu'elle est souvent définie de manière imprécise comme ce qui relève indifféremment de la prescription, des tâches ou des fonctions, il est proposé de concevoir cette dimension comme un rapport entre des buts et des moyens donnés par l'organisation. Le travail réalisé sur les spécificités de la dimension impersonnelle du « métier » de syndicaliste permet également de préciser la notion de but : elle contiendrait distinctement des buts généraux et des buts issus de l'organisation du travail.
Fichier principal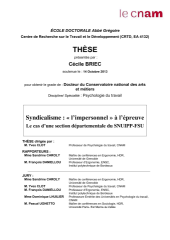 ThA_se_BRIEC_-_CA_cile.pdf (1.38 Mo)
Télécharger le fichier
Origin : Version validated by the jury (STAR)