Approche bilingue et multimodale de l'oralité chez l'enfant sourd : outils d'analyses, socialisation, développement
This thesis aims to describe deaf children orality and its development through a dual perspective : bilingualism and multimodality. This dual perspective enables us to consider orality in all its dimensions - vocal and gestural on one side, verbal and non-verbal on the other - in order to account for the specificities of the linguistic intra- and inter-modality dynamics which are involved in the development of orality of deaf children, bimodal bilingual (French/LSF) speakers in progress. This study is based on a corpus of productions from 30 deaf children in various types of schooling (oralist, bilingual, "mixed"). Theoretical aspects of the tools we developed to comprehend, describe and transcribe the deaf speakers practices in their bilingual and multimodal aspects will be presented in the first part. The second part will seek to underline the place of languages and modalities in the socialisation process of deaf children by analysing adaptive strategies used in the diverse daily interactions they are dealing with inside the school environment, both with teachers and their deaf or hearing peers. The third part will focus primarily on the way the linguistic and non-linguistic dimensions of bimodality are involved in the development of oral skills - lexical and narrative - of deaf children.
L'objectif de cette thèse est la description de l'oralité de l'enfant sourd et de son développement à travers le prisme d'une double perspective : celle du bilinguisme et de la multimodalité. Cette double perspective permet d'envisager l'oralité dans toutes ses dimensions - vocales et gestuelles d'une part, verbales et non-verbales d'autre part - afin de rendre compte de la spécificité des dynamiques langagières intra- et inter-modalités impliquées dans le développement des compétences de symbolisations orales chez l'enfant sourd, locuteur bilingue bimodal (français/LSF) en devenir. L'étude s'appuie sur les productions langagières de 30 enfants scolarisés dans des structures différentes (oraliste, bilingue, "mixte"). Les réflexions sur les outils d'analyse développés pour appréhender, décrire et transcrire les pratiques des locuteurs sourds dans leurs aspects bilingues et multimodaux constituent le premier volet de notre travail. Le second volet s'attache à rendre compte de la place des langues et des modalités dans les parcours de socialisation langagière des enfants sourds en analysant les stratégies adaptatives mises en oeuvre dans la diversité des interactions quotidiennes auxquelles ils sont confrontés dans l'espace scolaire, avec les enseignants ainsi qu'avec leurs pairs sourds ou entendants. Le troisième volet se centre plus particulièrement sur la manière dont les dimensions langagières et linguistiques de la bimodalité sont impliquées dans le développement des compétences orales - lexicales et narratives - des enfants sourds.
Fichier principal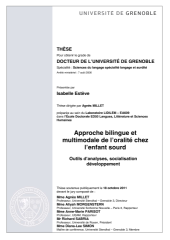 Esteve_manuscrit.pdf (30.32 Mo)
Télécharger le fichier
Esteve_volume_annexes.pdf (4.5 Mo)
Télécharger le fichier