Which atlantic tropism for the cultures of the Iberian Peninsula ? : the study of the metallic artifacts from the XIIIth a.C. to the VIllth a.C.
Quel(s) tropisme(s) atlantique(s) pour les cultures de la péninsule ibérique ? : le mobilier métallique du XIIIe au VIIIe a.C. : entre innovation et tradition
In the MBA and LBA historiography, the west lands of Europe - Great-Britain, Ireland, France and Iberian Peninsula - are gathered under the name "Atlantic complex". In this network, populations trade artifacts, ideas and Knowledge. Thus, they create a territory delimited by a set of communal artifacts (tools, weapons, jewellery, etc.) and by communal practices like feasts and hoards. It should be noted that burial practices, domestic architecture or potteries are of different natures, which make it impossible to call it an homogeneous culture. Since a few years, we wonder about the existence of this complex and we try to identify its features. How can we define a culture? How can we identify economic, technical or cultural areas? Does the Atlantic complex really exist? In order to answer these questions, the study of the Iberian Peninsula proved very interesting. The discovery of metallics artifact known as atlantic types let us think that Peninsula was an atlantic territory. However, facing the differences between artifacts from Peninsula and GB or France, we are allowed to challenge the existence of this complex. I propose here another approach of the Atlantic world, based on metallic artifacts found in the Iberian Peninsula. This work will be held in three parts. In the first part, I will show the problems of this work by presenting a short historiography of the methodology and its limits. I will then propose a new approach, elaborated upon my PHD work. In the second part, i will present three examples of this new approach: swords, axes and spearheads from the Iberian Peninsula. Finally, I will try to answer the question at issue : Does the Atlantic complex exist in The Iberian peninsula and in Europe in general ?
Dans l'historiographie de l'âge du Bronze final, le tiers ouest de la péninsule Ibérique est considéré comme une province atlantique, qui interagit avec les autres "membres" du complexe atlantique, c'est-à-dire, les territoires de la France, de la Grande-Bretagne et de l'Irlande principalement. Dans ce réseau, les populations échangeraient individus, objets, idées et savoir-faire ; elles créeraient ainsi un espace délimité par la présence d'un lot d'artefacts communs (des outils, des armes, de la parure...) et par des pratiques communes (le festin, la déposition d'objets métalliques, etc.). Il est à noter que pratiques funéraires, architecture de l'habitat et matériel céramique sont de nature différentes et ont très tôt été exclus de cette définition, empêchant de qualifier cet ensemble de culture homogène. Un premier constat concernant la dispersion du mobilier métallique, réputé de types atlantiques, démontre qu'il existe en péninsule Ibérique des réseaux d'échanges puissants entre l'Atlantique et la Méditerranée, qui amènent à questionner le rôle et la place du territoire au sein du "complexe atlantique" européen. Ces remarques naissent d'un regard nouveau porté au vestige archéologique et amènent à questionner l'existence d'un faciès atlantique en péninsule Ibérique, et peut-être même en Europe. L'analyse des correspondances multiples, qui consiste à confronter plusieurs paramètres, répond à ce besoin de considérer le vestige archéologique comme un objet fonctionnel, fabriqué et utilisé par des hommes de l'âge du Bronze final. Dans le cas des épées, des haches et des pointes de lance, il s'agit de relever des critères quantitatifs et qualitatifs qui seront comparés successivement les uns avec les autres. L'objectif est de répondre à une série de questions précises, déterminées par des hypothèses relatives à la fabrication, à la fonction et à l'usage de l'objet. Ce travail est développé en trois temps qui se veulent les reflets des différents questionnements mis en place dès l'introduction. Le premier chapitre présente les enjeux du débat et la question principale qui oriente l'argumentation : Existe-t-il un faciès atlantique ? Le deuxième chapitre est dédié à l'étude des objets, particulièrement les épées, les haches et les pointes de lance. Cette étude rend compte du traitement statistique effectué mais également de l'analyse technique et fonctionnelle des objets. Le troisième chapitre constitue la synthèse de ces différentes approches et propose plusieurs éléments de réponse à la question de départ : existe-t-il un faciès atlantique en péninsule Ibérique ?
Fichier principal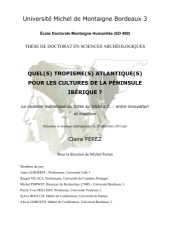 These_Claire_PEREZ.pdf (151.44 Mo)
Télécharger le fichier
Origin : Version validated by the jury (STAR)