Fair Trade on the trial of fashion : The role of criticism in the market formation.
Le commerce équitable à l'épreuve de la mode : Le rôle de la critique dans la formation des marchés
This dissertation studies the role of criticism in the social construction of markets. Fair Trade, and especially ethical fashion, are analyzed as extreme cases of moral uncertainty related to the organization of markets. The qualitative analysis of secondary data, observations, interviews, and artefacts enables us to follow the actors through perfomative controversies. Inspired by French pragmatic sociology (Boltanski, Callon, Latour), this research highlights the process of framing, reframing and overframing that makes the compromises on values and market rules more or less stable. Historically, the frame of fair clothes values the production process of goods. Then, in the 2000's, the emergence of pure players contributes to reframe fair clothes to fashion goods. Finally, at the end of the 2000's, conventional brands of the fashion market raise controversies by involving in the ethical fashion markets. More precisely, this research studies the endeavour of the Ethical Fashion Show to organize the market. It aims at making three contributions. First, it proposes the notion of market entre-preneurship to describe the activity consisting in making compromises between market and its criticisms. Second, it highlights the notion of economic performativity by clarifying the multiple ways that criticisms shape market agencements. Third, it sheds light on the material and spatial dimensions of the social construction of markets by analyzing devices of qualification, disqualification and control.
Cette thèse étudie le rôle de la critique dans la construction sociale des marchés. Le commerce équitable, et plus précisément la mode éthique, sont analysés comme cas extrêmes d'incertitude morale pesant sur l'organisation des marchés. Au travers d'une analyse qualitative de données secondaires, d'observations, d'entretiens et d'objets, cette recherche suit les acteurs dans les controverses qui performent le marché de la mode éthique. Inspirée par la sociologie pragmatique, elle éclaire les cadrages, recadrages et débordements qui solidifient ou déstabilisent les compromis portant sur la valeur des biens et sur les règles de l'échange. À l'origine, le cadre du vêtement équitable valorise l'artisanat, les conditions de production et les principes du commerce équitable. Puis, au début des années 2000, l'émergence de marques spécialisées contribue à recadrer le vêtement équitable en article de mode éthique. Enfin, à partir de la fin des années 2000, des marques de mode conventionnelle suscitent des controverses en se lançant, à leur tour, dans la mode éthique. Plus précisément, cette thèse analyse le travail d'un professionnel chargé d'organiser le marché, l'Ethical Fashion Show, le salon de la mode éthique. Cette recherche vise trois contributions. D'abord, elle propose la notion d'entreprise de marché pour décrire l'activité consistant à faire tenir dans un même cadre le marché et la critique. Ensuite, elle éclaire la notion de performativité de l'économie en soulignant les multiples manières par lesquelles la critique ré-agence les marchés. Enfin, elle met en lumière les dimensions matérielles et spatiales de la construction sociale des marchés au travers de l'étude de dispositifs de qualification, de disqualification et d'emprise.
Fichier principal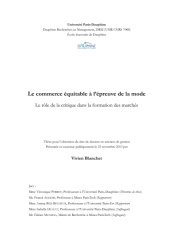 THESE_VIVIEN_BLANCHET_fevrier2014.pdf (7.36 Mo)
Télécharger le fichier
Origin : Version validated by the jury (STAR)