Epidemiological surveillance based on self-reported health indicators : relevance and feasibility of the a system at local scale in environmental health
Surveillance épidémiologique fondée sur des indicateurs de santé déclarée : pertinence et faisabilité d'un dispositif à l'échelle locale en santé environnement.
This work presents an innovative epidemiological surveillance system in environmental health based on self-reported health indicators, closer to the complaints of the local population leaving around a source of environmental pollution: symptoms and loss of the quality of life. This approach is built up from a conceptual framework based on the psychometric theory and the transactional model of stress. A field application of this approach was carried out the population neighboring (n=1 495) the chemical industrial area of Salindres, Gard. This study verifies that self-reported health indicators measured with MOS SF-36 and SCL-90-R can be used to study populations exposed to multifactorial environmental risks. This study confirms that these indicators are relevant and sensitive when applied to environmental risk factors referring to the cognitive representations of risks, such as the sensorial perception of stimuli emitted by the industries. This work shows, besides, that the availability of national references for these indicators confers interpretability to these indicators, an essential quality criterion. This work discusses qualitatively the acceptability of measuring indicators of self-reported health in the population, proposes recommendations on communication for the setting of that kind of approach, and opens up avenues on management orientations.
Ce travail présente un dispositif de surveillance épidémiologique novateur en santé environnementale fondée sur des évènements de santé déclarée, au plus près de la nature des plaintes exprimées par les populations : des symptômes et une dégradation de la qualité de vie. Ce dispositif est proposé à partir d'une réflexion conceptuelle reposant sur une revue de la littérature sur les théories psychométriques et le modèle transactionnel du stress et d'une application de terrain portant sur la population (n=1 495) riveraine du site industriel chimique de Salindres (Gard). Ces travaux permettent de vérifier les principales propriétés métriques d'indicateurs de santé déclarée mesurés, par les instruments MOS SF-36 et SCL-90-R, dans le cadre d'une population exposée à une pollution environnementale. Ils vérifient également l'adéquation et la sensibilité de ces indicateurs pour étudier les facteurs de risque environnementaux qui se réfèrent aux représentations cognitives des risques, comme la perception sensoriels des stimuli émis par les sites industriels. Ils montrent, en outre, que la disponibilité de références nationales portant sur la mesure de ces indicateurs leur confère un critère de qualité essentiel d'interprétation des résultats. Ces travaux apportent enfin des éléments d'appréciation de l'acceptabilité de la mesure des indicateurs de santé déclarée dans la population, des recommandations sur la communication pour la mise en œuvre d'un tel dispositif et des pistes de réflexion pour la gestion.
Fichier principal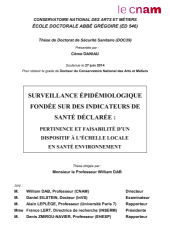 2014CNAM0923.pdf (15.01 Mo)
Télécharger le fichier
Origin : Version validated by the jury (STAR)