The charismatic voice : psychological aspects and acoustic parameters
La voix charismatique : aspects psychologiques et caractéristiques acoustiques.
This dissertation analyzes the charismatic voice in the context of political leadership. It is shown that the speaker-leader uses his/her voice based on two functions. The primary function is biological and consists of manipulating changes in fundamental frequency in order to be recognized as the leader of the group. The secondary function is learned and dependent upon the language spoken and the culture that one belongs to, and consists of changing voice quality in order to convey different traits and types of charisma. These functions are employed in order to persuade an audience and achieve certain goals. The phenomenon of charisma is first addressed through social-cognitive theory that distinguishes charisma of the mind (the leader's thought, actions, and vision expressed through written and spoken language) from charisma of the body (all non-verbal behaviors used for expressing one's message, affects, and emotions. Certain adjectives were established through empirical research to describe positive and negative traits in French, Italian, and Brazilian Portuguese speech. The tool MASCharP (Multi-dimensional Adjective-based Scale of Charisma Perception) was then developed in order to evaluate the charismatic traits of an individual's perceptible behavior. The study then establishes an acoustic and perceptual description of the charismatic voice. Speech range profiles are created for French, Italian, and Brazilian male leaders in order to represent the leaders' vocal extension in different communication contexts (formal vs. informal). The voice profiles demonstrate how the leaders adopt a particular vocal strategy related to the communication context as well as the leaders' persuasive strategy. These results show cross-language and cross-cultural similarities in leaders' vocal behavior. The following experimental phase demonstrates the influence of voice quality on the perception of different types and attributes of charismatic leadership. The speaker-leader uses his vocal production to be recognized as the leader of a group. This is true for all formal communication contexts wherein the leader must express his leadership and has a persuasive goal to achieve. If he wants to submit group members and hopes to appear as a dominant or threatening leader, the leader uses a low fundamental frequency associated with phonatory types such as creaky voice. If he wants to be perceived as a sincere, calm, and reassuring, he uses a higher fundamental frequency associated with his modal voice, avoiding phonatory types such as harsh voice. This is the primary function of the charismatic voice. Lastly, this study shows that, in political discourse, the traits of a charismatic leader are filtered by the language and cultural context of the interaction. The secondary function of the charismatic voice is therefore addressed: the use of one's voice for conveying different types of charisma, as characterized by varying attributes, is filtered through the language and culture that favor certain charismatic vocal behaviors which serve as prototypes that correspond to the audience's inherent expectations.
Cette thèse porte sur la voix charismatique dans le cadre du leadership politique. L'hypothèse générale est que le locuteur-leader utilise sa voix selon deux fonctions. Une fonction primaire, biologique, qui est d'utiliser les modulations de fréquence fondamentale pour être reconnu comme le leader du groupe. Une fonction secondaire, apprise et dépendante de la langue parlée et de la culture d'appartenance, qui est de modifier la qualité de la voix pour véhiculer différents traits et types de charisme dans le but de persuader l'auditoire et atteindre certains buts. La première étape a été de décrire le phénomène du charisme avec une théorie socio-cognitive qui distingue le charisme de l'esprit (la pensée, les actions et le visionnarisme du leader exprimés à travers le langage écrit et verbal) du charisme du corps (tout comportement non verbal utilisé pour exprimer son message ainsi que ses affects et émotions). De plus, des recherches empiriques ont permit de récolter des adjectifs décrivant les traits positifs et négatifs du charisme propres au français, à l'italien et au portugais brésilien. Enfin, un outil appelé MASCharP a été développé pour évaluer les traits du charisme d'un individu à partir de tout comportement perceptible. La deuxième étape d'étude concerne la description acoustique et perceptive de la voix charismatique. Une première phase a consisté à créer des profils vocaux des leaders masculins français, italiens et portugais brésiliens, dans le but de représenter l'extension vocale du leader lors de différents contextes de communication (formels vs. informels). Les profils vocaux montrent l'adoption, par les leaders, d'une stratégie vocale liée au contexte de communication et à leur stratégie persuasive. Ces résultats montrent des similarités inter-langagières et culturelles du comportement vocal entre leaders. La deuxième phase expérimentale sur la voix charismatique démontre l'influence de la qualité de voix des phrases sur la perception de différents types et attributs du leadership charismatique. Le locuteur-leader utilise sa production vocale pour être reconnu comme le leader du groupe. Ceci est valable dans tous les contextes de communication formels où le leader doit exprimer son leadership et a un but persuasif à atteindre. S'il veut soumettre les membres du groupe et souhaite apparaître comme un leader dominant ou menaçant, il utilise une fréquence fondamentale basse associée à des types phonatoires comme le creaky. S'il veut être perçu comme un leader sincère, calme et rassurant, il utilise une fréquence fondamentale plus haute associée à sa voix modale, évitant des types de phonation comme le harsh. Cela est la fonction primaire de la voix charismatique. Enfin, ces travaux de recherche montrent que les traits du leader charismatique, dans le discours politique, sont filtrés par le contexte langagier et culturel d'interaction partagé entre leader et partisans. L'utilisation de la voix pour véhiculer différents types de charisme, caractérises par des attributs différents, est filtrée par la langue et la culture qui favorisent l'émergence de comportements vocaux charismatiques, prototypiques et qui correspondent à l'attente inhérente de l'auditoire. Cela est la fonction secondaire de la voix charismatique.
Fichier principal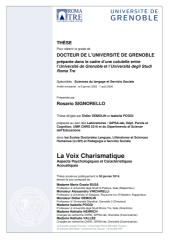 37404_SIGNORELLO_2014_archivage.pdf (29.51 Mo)
Télécharger le fichier
Origin : Version validated by the jury (STAR)