The song of collective violence : a study of prosecutor imaginary in the French versions of the Song of Roland
Le chant de la violence collective : l'imaginaire persécuteur dans les versions françaises de la "Chanson de Roland"
This doctoral thesis intends to propose a commentary of the Chanson de Roland, based on a meticulous analysis of all the variants which have reached posterity. By paying close attention to the whole of French versions and by refusing to comment the sole manuscript of Oxford, as most of scholars do, we comply with the unsettled nature of medieval poetry and furthermore support the idea that the Chanson de Roland should be considered as a myth. The comparative mythology thus constitutes a main thrust of this work : in the tradition on Indo-european studies as founded by Georges Dumézil, we compare the myth of Roland to the myth of Balder, on a morphological level. The essay of comparative mythology is the first part of our commentary and could be regarded as self-reliant. However, it forms a single entity with the essay of typological comparison which follows. The thesis actually intends to interpret the poem in the light of the theory developed by René Girard, which allows to analyze the aesthetics and the ideology of the chanson de geste in a new light. The poetic of repetition and the art of symmetry are closely linked to the hypothesis of mimetic desire, just like the epic crisis is closely linked to the model of the sacrificial crisis. By studying the anthropological question of violence and the ambiguous figure of mythical warrior, this work combines two approaches, deemed to be irreconcilable and nevertheless complementary, in the sense that they interpret in the same way the ambivalence of epic heroes.
La thèse entend proposer un commentaire de la Chanson de Roland, fondé sur l'analyse minutieuse de toutes les variantes qui nous soient parvenues. Cette prise en considération de l'ensemble des versions françaises, rompant avec le dogme de la précellence du manuscrit d'Oxford, s'explique logiquement par la nature mouvante des œuvres médiévales, mais s'enracine aussi dans la conviction d'une texture mythique du poème de Roncevaux. Aussi le recours à la mythologie comparée constitue-t-il une ligne de force majeure du présent travail : s'inscrivant dans la tradition des études indo-européennes telles que Georges Dumézil a contribué à les fonder, la thèse propose une comparaison morphologique entre les mythes de Baldr et de Roland. Cet essai de mythologie comparée forme un premier temps dans l'analyse de la texture mythique du poème et peut être considéré comme autonome. Il s'articule cependant avec le travail de comparaison typologique qui lui succède. La thèse se propose en effet d'étudier la Chanson de Roland à la lumière de l'hypothèse victimaire élaborée par René Girard, qui permet de penser sous un jour nouveau l'esthétique et l'idéologie de la chanson de geste. De fait, la poétique de la répétition et l'art de la symétrie sont justiciables de la théorie du désir mimétique, tout comme la crise épique entretient des analogies étroites avec le modèle de la crise sacrificielle. C'est autour de la question anthropologique de la violence et de l'ambiguïté de la figure du guerrier mythique que ce travail réconcilie deux méthodes réputées incompatibles et pourtant complémentaires dans l'analyse qu'elles proposent de l'ambivalence des héros épiques.
Fichier principal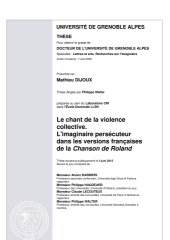 DIJOUX_2015_archivage.pdf (4.87 Mo)
Télécharger le fichier
Origin : Version validated by the jury (STAR)