The metropolization of migration fields: A geographical approach of the relation between globality and locality. Reflections on the Caribbean migration system in the US
La métropolisation des espaces migratoires : une lecture géographique du lien entre globalité et localité. Réflexions sur le système migratoire caribéen aux Etats-Unis
Metwopolizasyon espas migratwa yo: yon refleksyon sou sistèm migratwa Karayib-la Ozetazini
This scientific volume of my HDR (French accreditation to supervise research) aims at providing a synthesis of my research orientation and findings since the second half of the 1990s. From multiple fields of investigation in the Caribbean basin and in Metropolitan Miami and New York, the common thread in my work lies in the importance given to spatial processes in the analysis of the metropolization of migration fields. My methods, questions, and concepts have evolved with the diversification of my research fields; an evolution to which the plurality of the experiences of Caribbean migrants in the Black Atlantic has called for. The approach highlights the interest of a putting in link between the geographical scales of analysis to understand the interplay of global and local processes in world migration.
Ce volume scientifique d'habilitation à diriger des recherches vise à offrir une synthèse de mes travaux et des positionnements qui les ont orientés depuis la deuxième moitié des années 1990. A partir de multiples espaces d'investigation du bassin caribéen et des terrains métropolitains de Miami et de New York, j'ai tissé le fil conducteur de mon parcours en articulant la spatialisation de la réflexion migratoire avec les dynamiques de métropolisation des migrations à l'oeuvre dans le cadre de la mondialisation. Les méthodes, les questionnements et les notions ont évolué avec la diversification de mes terrains à laquelle appelait la pluralité des expériences des migrants caribéens dans l'espace atlantique. La démarche met en exergue l'intérêt d'une mise en lien entre les échelles géographiques d'analyse pour comprendre le jeu de concert des processus globaux et locaux dans la mondialisation migratoire.
Volim syantifik HDR (tèz pou bay otorizasyon dirije rechèch) sa-a vize bay yon sentèz nan oriantasyon ak pozisyon rechèch mwen yo depi dezyèm mwatye nan ane 1990 yo. Nan divès zòn ankèt nan Karayib la, Miyami ak Nouyò k, oriantasyon prensipal la nan rechèch mwen rezide nan enpòtans dimansyon espasyal mwen devlope nan analiz metwopolizasyon chan migratwa yo. Mwen adapte metòd, kèsyon ak konsèp yo ak divèsite teren yo e richès eksperians migran karibeyen yo nan espas atlantik la. Apwòch la mete aksan sou relasyon nou kapab eksplore ant echèl espasyal yo pour konprann ki mannyè pwosesis global ak lokal yo ap fonksyone ansanm nan mondialisasyon migratwa lan.
Fichier principal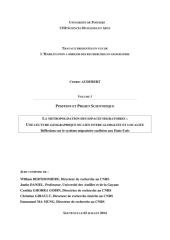 AUDEBERT 2014 Metropolisation des espaces migratoires.pdf (2.2 Mo)
Télécharger le fichier