The development of housing by newly retired couples of Baby-Boomers : living the present, anticipating the future ?
L'aménagement de l'habitat chez des couples de nouveaux retraités Baby-Boomers : vivre le présent, anticiper l'avenir ?
This thesis of qualitative sociology is about practices and meanings of home's adaptations made by newly retired couples of Baby Boomers. It reports various dynamics – sociological, historical, physical or of identity, relationship and lifestyle - that shape the experience of "ageing" and the "housing" of these individuals, and this in two different time frames : in the present, through realized and /or short-term planned developments; in the future, through the developments made by anticipation of risks linked to the ageing and/or long-term projection. The results of this thesis show, first of all, that the adaptation of housing and related practices constitute some "supports" for this transition in the life course, and for "ageing but not old yet" people coming to retirement and entering the "last third of their life". In the same time, they show how the relationships and the various activities of newly retired "generational pillars" shape their habitat and way of living in the early retirement period. On the other hand, the results of this thesis give to see an "endogenous" approach to adaptation of housing, at a time when this issue is a major challenge for governments and individuals. Regarding this point of view, this research demonstrates how Baby Boomers show, through the development of their habitat, a significant empowerment about their present and future ageing in order to live and age "good" and if possible, at home. The exposed results also suggest the potential of "comfort" in order to help Baby Boomers in the process of risk's prevention, for the future and the preparation of their old years. At the same time, this research encourages to think about the obstacles that still exist on these questions, such as the deep negative perception of aging, that certain popular images and messages continue to feed.
Cette thèse de sociologie qualitative porte sur les pratiques et les significations des aménagements de l'habitat chez des couples d'individus nouvellement retraités et issus du « Baby-Boom ». Elle rend compte des dynamiques - socio-historiques, identitaires et corporelles, relationnelles et de mode de vie - qui modèlent l'expérience du « vieillir » et de l' « habiter » de ces individus, et ce, dans une double temporalité : dans le temps présent, à travers les aménagements réalisés et/ou projetés à court terme ; dans l'avenir, à travers les aménagements réalisés par anticipation des risques liés à la vieillesse et/ou projetés à long terme. Les résultats de cette thèse montrent, d'une part, que les aménagements de l'habitat et leurs pratiques afférentes constituent les « supports » d'une transition dans le parcours de vie, pour des « êtres vieillissants sans être vieux » qui arrivent à la retraite et en même temps, au dernier tiers de leur vie. Dans le même mouvement, ils montrent comment les liens et les activités diverses de « pivots générationnels » nouvellement retraités façonnent leur habitat et leur façon d'habiter en début de retraite. D'autre part, les résultats de cette thèse donnent à voir une approche « endogène » de l'adaptation de l'habitat, à l'heure où cette question constitue un enjeu essentiel pour les pouvoirs publics et pour les individus. Cette recherche montre sur ce point comment des Baby-Boomers font preuve, via l'aménagement de leur habitat, d'un empowerment notable au sujet de leur vieillissement présent et à venir, afin de vivre et de vieillir « bien » et si possible, chez eux. Les résultats exposés donnent aussi à penser le potentiel du « confort » pour accompagner les individus issus des générations du Baby-Boom dans la prévention des risques de l'avenir et la préparation de leur vieux jours. En même temps, cette recherche invite à réfléchir à certains freins liés aujourd'hui (encore) à ces questions, tels qu'un imaginaire de la vieillesse profondément négatif, que certaines images et messages véhiculés continuent de nourrir.
Fichier principal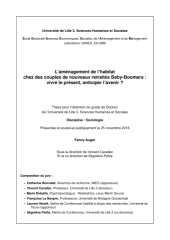 AUGER_Fanny.pdf (3.51 Mo)
Télécharger le fichier
Origin : Version validated by the jury (STAR)