In-situ investigation of elemental corrosion reactions during the surface treatment of Al-Cu and Al-Cu-Li alloys.
Investigations in situ des mécanismes de corrosion élémentaires durant le traitement de surface des alliages Al-Cu et Al-Cu-Li
This PhD thesis focused on the study of aluminum alloys, particularly the AA2024-T3 and AA2050-T3. The Al-Cu-Mg based alloy (AA2024-T3) are used for decades in the field of aerospace for its lightness and excellent mechanical properties are progressively replaced by and Al-Cu-Li (AA2050-T3) alloys. Nevertheless, they exhibit a highly heterogeneous microstructure, making them sensitive to corrosion. Several surface treatments formulations, such as coatings, have been developed, with the aim of slowing as much as possible the degradation of these alloys. The pretreatment, a preliminary step to surface treatment, is intended to prepare the surface of the alloy prior coating application. Several studies have shown that this step is essential and ensures the effectiveness of the surface treatment. In order to observe the effect of the pretreatment, several surface characterization techniques were used. Scanning electron microscopy (SEM) and X-ray photoelectron spectroscopy (XPS) are among the most cited. All these methods are intended to quantify the dissolution of the alloying elements. To date, none has been able to obtain a complete and in situ analysis of the elemental reactivity of a complex alloy during the pretreatment. The main objective of this thesis was to develop a new methodology capable of providing a precise measurement of the reactivity of complex alloys such as aluminum alloys during a pretreatment sequence and to provide information on AA2050 -T3, as very little is reported about the reactivity of Li during the surface treatment.
Ce travail de thèse s'est porté sur l'étude des alliages d'aluminium, et en particulier les alliages AA2024-T3 et AA2050-T3. L'alliage AA2024-T3 à base d'Al-Cu-Mg est utilisé depuis des décennies dans le domaine de l'aérospatial pour sa légèreté et ses excellentes propriétés mécaniques, est progressivement remplacé par les alliages Al-Cu-Li tels que l'AA2050-T3. Néanmoins, il en résulte parallèlement une microstructure très hétérogène, rendant l'AA2024 très sensible à la corrosion. Plusieurs moyens de protections - appelés traitements de surface- ont donc été développés, dans le but de ralentir au maximum la dégradation de l'alliage. Le prétraitement, une étape préliminaire au traitement de surface a pour but de préparer la surface de l'alliage. Plusieurs études ont démontré que cette étape est indispensable et assure l'efficacité du traitement de surface. Afin d'observer l'effet du prétraitement, plusieurs techniques de caractérisations de surface sont utilisées. La microscopie électronique à balayage (MEB) et la spectroscopie à photoélectron X (XPS) sont parmi les plus citées. Toutes ces méthodes ont pour objectif de s'assurer de la dissolution des éléments d'alliages, et de mettre en évidence les effets d'enrichissement de cuivre. Jusqu'à présent, aucune méthode n'a permis d'obtenir une analyse complète et in situ de la réactivité de tous les éléments lors du prétraitement. L'objectif principal de ces travaux de thèse était de développer une nouvelle méthodologie, capable de prodiguer une mesure précise de la réactivité d'alliages complexes tels que les alliages d'aluminium durant une séquence de prétraitement et d'apporter des informations sur le AA2050-T3, pour lequel la littérature est beaucoup plus pauvre en données quant à la réactivité de l'élément d'alliage Li avec les solutions de prétraitement.
Fichier principal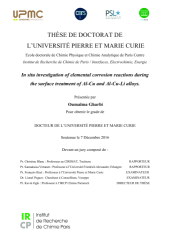 2016PA066563.pdf (8.28 Mo)
Télécharger le fichier
Origin : Version validated by the jury (STAR)