Self-assembly of the bacterial protein Hfq, an actor of RNA metabolism : structural role of the C-terminal domain.
Auto-assemblage de la protéine bactérienne Hfq, actrice du métabolisme de l'ARN : rôle structural du domaine C-terminal.
RNA-based regulations of gene expression allow quick and versatile responses from cells to changing environmental conditions. However, these regulations are often protein-mediated. The bacterial protein Hfq is one of the most studied RNA-based regulation partner. Found in various prokaryotes, it is an important virulence factor involved in many cellular processes. Hfq's structure resembles a torus, formed by multiple β-sheets. Apart from this N-terminal region (NTR), a supplemental C-terminal region (CTR) with variable lengths and sequences may exist in some species. In E. coli, this specific region measures around 30 residues and is predicted as intrinsically disordered. Few studies focused on Hfq-CTR until recently.This work highlights new potential roles for Hfq-CTR. First, this region is able to self-interact and forms amyloid fibers which explains the self-assembled Hfq superstructures observed in vivo. Second, the protein can bind and efficiently condense DNA in vitro, strengthening the suggested role of Hfq in shaping the bacterial chromosome. This compaction is fully dependent on the CTR which is responsible for DNA bridging. Third, the CTR also gives to Hfq the ability to self-assemble on a lipid bilayer, explaining its membrane-localized fraction observed in vivo. The subsequent membrane reorganization might facilitate the release of RNAs in the extracellular medium, with potential implications on bacterial communication and interaction with surrounding cells and environment.
La régulation de l'expression génique par des ARNs permet une réponse rapide et polyvalente des cellules à des changements environnementaux. Cependant, elle nécessite souvent des partenaires protéiques. La protéine bactérienne Hfq en est un bon exemple. Facteur de virulence, elle est présente chez une variété de procaryotes et intervient dans nombre de circuits de régulation. Structurellement, Hfq adopte un repliement caractéristique, le repliement Sm. Ainsi, Les feuillets β qui la constituent se regroupent et forment un hexamère toroïdal. Outre cette région N-terminale, il existe aussi parfois une région C-terminale (CTR) de séquence et de longueur variables. Chez E. coli, cette région comprend une trentaine de résidus et est prédite comme non-structurée. Jusqu'à présent, son rôle n'a été que peu étudié.Ce travail de thèse met en lumière de nouvelles pistes quant à la fonction du CTR. Nous avons constaté sa capacité à former des fibres amyloïdes, expliquant la formation de structures auto-assemblées in vivo. De plus, la protéine est capable de lier l'ADN et de le condenser fortement in vitro. Cette compaction est complètement dépendante de la présence du CTR, qui permet de ponter les brins d'ADN. Ce résultat suggère une nouvelle fonction de Hfq dans la structuration du chromosome. Enfin, nous avons démontré que ce domaine permet aussi à Hfq de s'assembler à la surface d'une bicouche lipidique, expliquant sa localisation membranaire. La désorganisation de la membrane qui en résulte pourrait permettre le passage d'ARNs dans le milieu extracellulaire, avec d'importantes implications sur la capacité de la bactérie à interagir avec ses voisines et son environnement.
Fichier principal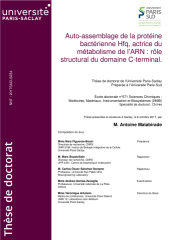 74498_MALABIRADE_2017_diffusion.pdf (72.92 Mo)
Télécharger le fichier
Origin : Version validated by the jury (STAR)