But why do they all arrive at the same time ? The paradox of rush hour and flexible work schedules.
Mais pourquoi arrivent-ils tous à la même heure ? Le paradoxe de l'heure de pointe et des horaires de travail flexibles.
At the core of city life, work hours set the rhythm of daily activities and movement. We are therefore investigating the possibility of staggering the start of the work day in order to reduce congestion at morning rush hour. Suggestions typically put forward are based on considerations of a tactical nature: it is companies' schedules which dictate that workers all commute at the same time. Thus, one proposed solution is to promote flexible work schedules. But our observations call this idea into question: in Île-de-France, as far as public transportation is concerned, flexible work scheduling actually magnifies the number of commuters who arrive at work during rush hour. This paradoxical observation makes it necessary to change the way we usually think of the rush hour phenomenon. Before trying to solve peak congestions problems, we need to understand the underlying reasons on which an individual's work schedule choices are based. Why does a worker with flexible work hours commute during rush hour? Our research adopts a comprehensive approach and focuses on daily scheduling demands. It relies on the results of a survey (3202 respondents) and interviews (29). Respondents and interviewees are executives from the Plaine Saint-Denis area. To describe temporal strategies that explain voluntary commuting during peak hours, we organize our hypotheses along three dimensions: (I) There remain coupling constraints (school hours, meeting hours) which force workers with flexible hours to go to work during peak hours. (II) Workers with flexible hours and fewer coupling constraints prefer (late afternoon leisure, activities with family and friends) to arrive before or during the rush hour. (III) There are social norms regarding work hours (ideal of the disciplined worker or the dedicated executive) that limit flexibility by frowning on those who arrive overly late at the office. Confirmation of these hypotheses opens the way to a renewed reading of the rush hour phenomenon in the age of flexibility: individualized (work) hours do not result in desynchronized (work) schedules. In conclusion, it is by revealing the organic intricacy of work synchronisation that our thesis generates operational recommendations for reducing congestion at peak hours.
Au cœur des temporalités urbaines, les horaires de travail rythment les pulsations des activités et mobilités quotidiennes. C'est pourquoi nous interrogeons la possibilité d'échelonner les horaires d'embauche pour atténuer la saturation des transports à l'heure de pointe du matin. Les réponses habituellement privilégiées s'appuient sur des considérations d'ordre technique : c'est l'entreprise qui contraint les salariés à se déplacer au même moment. Une des solutions envisagées consiste alors à promouvoir les horaires de travail à la carte. Mais nos observations relativisent la pertinence de cette idée. En effet, en Île-de-France et pour les déplacements en transports collectifs, la flexibilisation des horaires de travail accentue la concentration temporelle des arrivées au bureau. Ce constat paradoxal demande de renverser la façon dont nous considérons généralement le phénomène de pointe. Avant de chercher à résoudre les problèmes de congestion en heure de pointe, il est nécessaire de comprendre les logiques d'action individuelles qui fondent un choix d'horaire de travail. Pour quelles raisons un salarié aux horaires flexibles arrive-t-il au travail en heure de pointe? Guidées par une approche compréhensive et centrée sur les temporalités du quotidien, nos investigations s'appuient sur les résultats d'un questionnaire (3202 répondants) et d'entretiens (29) réalisés auprès de cadres du pôle d'activité de la Plaine Saint-Denis. Afin de décrire les stratégies temporelles qui expliquent une arrivée au bureau en heure de pointe, nous établissons nos hypothèses de recherche selon trois dimensions : (I) Il subsiste toujours des contraintes de couplage (horaires d'école, de réunion) qui poussent les salariés flexibles à se rendre au travail durant la période de pointe. (II) Les salariés flexibles qui n'ont pas de contraintes de couplage préfèrent (loisir en fin d'après-midi, synchronisation avec les proches) arriver avant ou pendant l'heure de pointe. (III) Il existe des normes sociales d'horaires de travail (normes des salariés disciplinés et du cadre dévoué) qui canalisent les pratiques horaires en sanctionnant les arrivées trop tardives au bureau. La validation de ces hypothèses offre une lecture renouvelée de l'heure de pointe à l'ère de la flexibilité : l'individualisation du rapport au temps (de travail) ne conduit pas à la désynchronisation des agendas. Et finalement, c'est en dévoilant les entrelacs organiques de la synchronisation au travail que la thèse ouvre des pistes opérationnelles pour désaturer les transports aux heures de pointe.
Fichier principal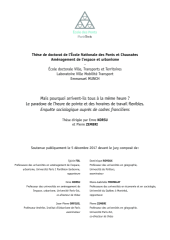 Thèse E. Munch.pdf (11.67 Mo)
Télécharger le fichier
Origin : Files produced by the author(s)